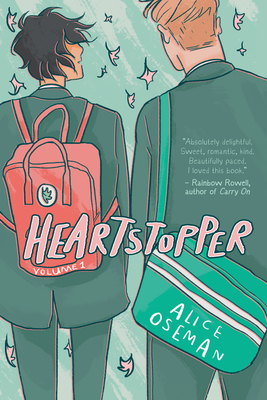 Heartstopper #1: A Graphic Novel
Likely On Our Shelves
Boy meets boy. Boys become friends. Boys fall in love. A sweet and charming coming-of-age story that explores friendship, love, and coming out. This edition features beautiful two-color artwork.
Now streaming on Netflix!
Shy and softhearted Charlie Spring sits next to rugby player Nick Nelson in class one morning. A warm and intimate friendship follows, and that soon develops into something more for Charlie, who doesn't think he has a chance.
But Nick is struggling with feelings of his own, and as the two grow closer and take on the ups and downs of high school, they come to understand the surprising and delightful ways in which love works.
Alice Oseman was born in 1994 in Kent, England, and is a #1 New York Times bestselling writer and illustrator. She is the creator of the popular Heartstopper series, which is now streaming on Netflix as a live-action TV show. Alice is also the author of four YA novels: Solitaire, Radio Silence, I Was Born for This, and Loveless. Visit her online at aliceoseman.com.
Adapted into a popular Netflix show, this series (written for tweens and up) centers a sweet adolescent romance between two British boys. As of August 2023, it has been removed from school libraries in three U.S. states; in Turkey, it must be labeled "Harmful to Children"; and in Hungary, a bookstore was fined roughly $36,000 for defying a law that requires all books with LGBTQ+ characters to be sealed in plastic.