The Schaubühne Berlin under Thomas Ostermeier: Reinventing Realism (Methuen Drama Engage)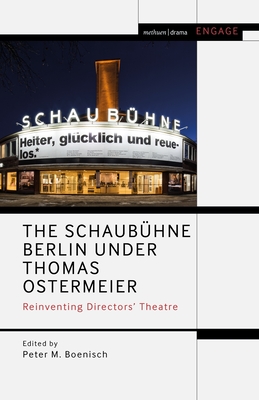 The Schaubühne Berlin under Thomas Ostermeier: Reinventing Realism (Methuen Drama Engage)
On the 20th anniversary of artistic director Thomas Ostermeier's time at Berlin's Schaub hne Theatre, this important study reflects on the contribution the theatre has made to contemporary theatre, not just in Germany, but around the world.

Ostermeier has kept extending and refining the important notion of German Regietheater(directors' theatre) with the Schaub hne Theatre being its internationally famous birthplace under the previous artistic direction of Peter Stein. Through doing so, the work produced at the Schaub hne has transgressed established divides of text-based and devised theatre, and blurred the borders between theatre and dance.

Combining scholarly reflection with interview material, this essential collection investigates how theatre has been reinvented by the Schaub hne under Ostermeier's tenure, bringing together international theatre scholars such as Erika Fischer-Lichte, Marvin Carlson, Jitka Goriaux Pelechova, Benjamin Fowler, Ramona Mosse and Sabine Huschka. This study also considers productions by some of Ostermeier's past and present collaborators, such as Katie Mitchell, Falk Richter and Sasha Waltz.

This edition also includes the first English translation of Schaub hne's original manifesto "The Mission" (1999); a contribution from Ostermeier's long-term co-director Jens Hillje; a contribution from Hans-Thies Lehmann on Falk Richter; and an interview with Thomas Ostermeier by Clare Finburgh Delijani.
Peter M. Boenisch is Professor of Dramaturgy at Aarhus University, Denmark and Professor of European Theatre at the Royal Central School of Speech and Drama, University of London, UK. His specialist areas are theatre direction and dramaturgy, with a particular focus on the German- and Dutch-speaking countries, as well as the institutional aesthetics and politics of the European theatre system. His books include Directing Scenes and Senses: The thinking of Regie (2015), The Theatre of Thomas Ostermeier, co-authored with the German theatre director (2016), and the volume Littlewood - Strehler - Planchon in the Methuen Drama series The Great European Stage Directors (co-edited with Clare Finburgh, Methuen Drama 2018). He also edited the 30th anniversary edition of David Bradby and David Williams's seminal study Directors' Theatre (2019). With Rachel Fensham, he is series co-editor of the series New World Choreographies.
ISBN: 9781350165793
ISBN-10: 9781350165793
Publisher: Bloomsbury Publishing PLC
Publication Date: 11/12/2020 - 12:00am
On Sale: 11/12/2020 - 12:00am
Pages: 232
Language: English
Categories