Whodunit Puzzles: Mysteries for the Super Sleuth to Solve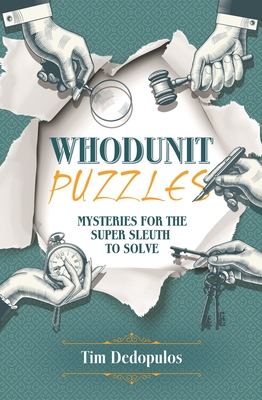 Whodunit Puzzles: Mysteries for the Super Sleuth to Solve
Out of Stock In Store
Pit your wits against all manner of cunning criminals as you attempt to solve the fiendish mysteries within. As you put your skills of deduction and problem-solving to the test you'll be guided by three inimitable assistants, the insightful Inspector Parnacki, the curious Miss Mary Miller, and the persistent Joshua Cole.
If you're a puzzle fan looking for a thrilling treat, or a mystery lover who fancies themselves a detective extraordinaire this is just the book for you. So, if you consider yourself a perceptive armchair detective, put your thinking cap on and get ready to use all of your logic and wits as you enter the world of the whodunit
Tim Dedopulos is the author or more than 100 books of puzzles, games and other diversions. When he isn't figuring out how to kill characters in suspicious ways, he's either reading or messing around on the Internet. He is the author of Whodunits and Whodunit Mysteries, both published by Arcturus.
ISBN: 9781398809192
ISBN-10: 9781398809192
Publisher: Sirius Entertainment
Publication Date: 01/01/2022 - 12:00am
On Sale: 01/01/2022 - 12:00am
Pages: 256
Language: English
Categories