The Tarot Coloring Book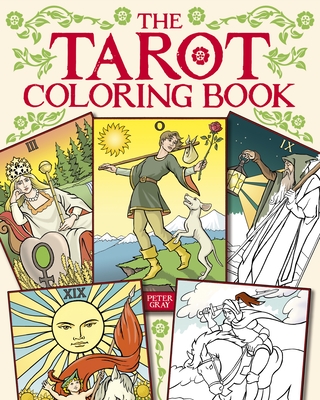 The Tarot Coloring Book
Likely On Our Shelves
This delightful coloring book contains all 78 tarot card illustrations to be brought to life with color.
Tarot cards are best loved for their bold and mystical designs, from the regal countenance of The Empress to the quiet beauty of The Star. This coloring book uses tarot illustrations based on the iconic Rider-Waite-Smith deck, admired for its bold colors and charming iconography. This collection features every card in the major and minor arcana along with other enchanting coloring designs which perfectly compliment the tarot illustrations. Whether you are interested in Tarot itself or simply intrigued by the delightful artwork, you will enjoy many pleasurable hours bringing vivid color to these designs. - Includes 100 designs
- Printed on thick, high-quality paper
- The images appear on single-sided pages to prevent bleed-through
ABOUT THE SERIES:
The bestselling
Sirius Creative Coloring
series brings together delightful coloring books designed to relax the mind and inspire creativity. Printed on thick, high-quality paper, these bold and beautiful artworks present a wonderful coloring challenge.
Peter Gray is long established as an illustrator of books, magazines and newspapers with occasional forays into film storyboards and costume design, advertising and animation projects. Peter is also the author of many books for adults and children, which have been published in many languages all around the world. Since graduating from Loughborough College of Art and Design with a specialist degree in illustration, Peter Gray has contributed illustrations to many books, of wide-ranging subject matter. Peter has also worked on storyboards and costume design for the film industry and regularly contributes illustrations to national newspapers (Financial Times, Sunday Times) and magazines (The Spectator, Readers' Digest). He lives in Suffolk, UK.
ISBN: 9781398814455
ISBN-10: 9781398814455
Publisher: Sirius Entertainment
Publication Date: 04/01/2022 - 12:00am
On Sale: 04/01/2022 - 12:00am
Pages: 128
Language: English
Categories