Exhausted: How to Revitalize, Restore, and Renew Your Energy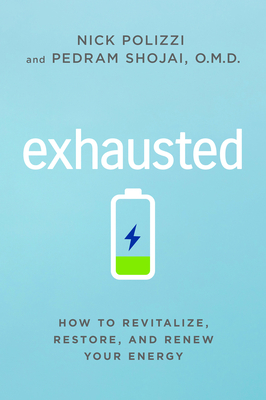 Exhausted: How to Revitalize, Restore, and Renew Your Energy
New in paperback, from the New York Times best-selling author of The Urban Monk and author of The Sacred Science draw a clear and thorough road map for healing from exhaustion, inside and out.

"We're facing an unprecedented healthcare crisis, and much of it stems from the collapse of the energy production systems of our cells. Exhausted is a timely book that sheds light on the root of this epidemic."
-- Mark Hyman, M.D., New York Times best-selling author of Food; Eat Fat, Get Thin; and The Blood Sugar Solution

The economics are simple: you can't run on a deficit of energy and expect to feel well. Yet that is what we've come to expect from ourselves, as we have pushed farther and farther down the hole of fatigue and away from any semblance of being healthy.
But what if you had a simple road map to reclaiming your health and vibrancy? Nick Polizzi, author of The Sacred Science, and Pedram Shojai, O.M.D., and New York Times best-selling author of The Urban Monk and The Art of Stopping Time, provide:

Wisdom from the top scientists, physicians, and experts in traditional healing practices
A concise nuts-and-bolts understanding of what energy is and how we use it
An exploration of the key areas in which we have been depriving our body of energy
From our immune system to hormones to sleep patterns, Polizzi and Shojai offer methods for evaluating your individual needs, as well as safe, easy remedies for whole-body healing. Maximize the potential energy from the essential parts of your body and life so you can finally feel fully alive and find the fulfillment you deserve, both personally and professionally.
Nick Polizzi is the founder of The Sacred Science, director of the feature documentary by the same name, and author of the book based on the film. He is also the host and executive producer of the docuseries Remedy: Ancient Medicines for Modern Illness. Ever since he cured himself of a debilitating illness using a traditional therapy, he has been traveling the world and documenting forgotten healing methods.

Dr. Pedram Shojai is the founder of Well.org and the New York Times best-selling author of The Urban Monk, Rise and Shine, The Art of Stopping Time, and Inner Alchemy. He is the producer and director of Vitality, Origins, and Prosperity and the producer of such documentary series as Interconnected, Gateway to Health, and Exhausted. He is a Taoist abbot, a doctor of Oriental medicine, and a qigong master.