My Parent Has Cancer and It Really Sucks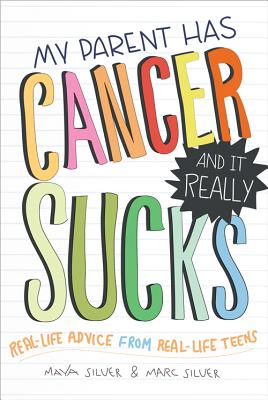 My Parent Has Cancer and It Really Sucks
Let's face it, cancer sucks. This book provides real-life advice from real-life teens designed to help teens live with a parent who is fighting cancer.
One million American teenagers live with a parent who is fighting cancer. It's a hard blow for those already navigating high school, preparing for college, and becoming increasingly independent.
Author Maya Silver was 15 when her mom was diagnosed with breast cancer in 2001. She and her dad, Marc, have combined their family's personal experience with advice from dozens of medical professionals and real stories from 100 teens—all going through the same thing Maya did.
The topic of cancer can be difficult to approach, but in a highly designed, engaging style, this book gives practical guidance that includes:
How to talk about the diagnosis (and what does diagnosis even mean, anyway?)
The best outlets for stress (punching a wall is not a great one, but should it happen, there are instructions for a patch job)
How to deal with friends (especially one the ones with 'pity eyes')
Whether to tell the teachers and guidance counselors and what they should know (how not to get embarrassed in class)
What happens in a therapy session and how to find a support group if you want one
A special section for parents also gives tips on strategies for sharing the news and explaining cancer to a child, making sure your child doesn't become the parent, what to do if the outlook is grim, and tips for how to live life after cancer.
My Parent Has Cancer and It Really Sucks allows teens to see that they are not alone. That no matter how rough things get, they will get through this difficult time. That everything they're feeling is ok. Essays from Gilda Radner's "Gilda's Club" annual contest are an especially poignant and moving testimony of how other teens dealt with their family's situation.
Praise for My Parent Has Cancer and It Really Sucks:
"Wisely crafted into a wonderfully warm, engaging and informative book that reads like a chat with a group of friends with helpful advice from the experts." —Paula K. Rauch MD, Director of the Marjorie E. Korff Parenting At a Challenging Time Program
"A must read for parents, kids, teachers and medical staff who know anyone with cancer. You will learn something on every page." —Anna Gottlieb, MPA, Founder and CEO Gilda's Club Seattle
"This book is a 'must have' for oncologists, cancer treatment centers and families with teenagers." —Kathleen McCue, MA, LSW, CCLS, Director of the Children's Program at The Gathering Place, Cleveland, OH
"My Parent Has Cancer and It Really Sucks provides a much-needed toolkit for teens coping with a parent's cancer." —Jane Saccaro, CEO of Camp Kesem, a camp for children who have a parent with cancer
Marc Silver is the author of Breast Cancer Husband. He is currently deputy editor for text at National Geographic magazine and lives in Baltimore, Maryland.
Maya Silver lives in Crested Butte, CO, where she works at the Office for Resource Efficiency. She won the Diane Vreuls Fiction Prize at Oberlin College in 2008 and has contributed to U.S. News & World Report and Washington Post Express.