Life With The Lid Off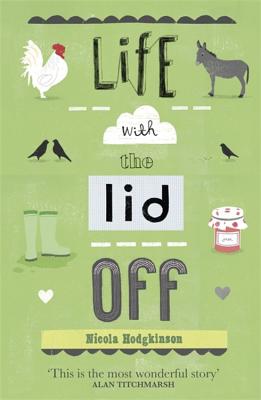 The winner of the Alan Titchmarsh 'People's Author' national competition tells of the travails of family life with wit and warmth.

'I gaze down and see your garden, the gate hanging off its hinges, the mess, your children running around half naked like little street urchins. It spoils the view entirely'

When single mother Nicola Hodgkinson decided to follow her rural dream, it involved transporting her young family - three rowdy children, her beloved horse, a wilful donkey and two single-minded bantams - to a ramshackle cottage in an idyllic seaside village. The family soon attracts the horrified attention of nosey neighbours, and annoys motorists by hogging country lanes with a horse-drawn caravan. But amid the chaos, the magic of family life shines through, peppered with humour, love, moments of high drama, and nostalgia.

LIFE WITH THE LID OFF is a brilliant, profound and funny evocation of a universal theme: how to find yourself again amongst the hurly burly of family life.
Nicola Hodgkinson is the winner of THE PEOPLE'S AUTHOR national writing competition as featured on The Alan Titchmarsh Show. She lives with a menagerie of animals in Suffolk, where she writes in her shed.
ISBN: 9781409120025
ISBN-10: 9781409120025
Publisher: Orion
Publication Date: 11/08/2011 - 12:00am
On Sale: 11/08/2011 - 12:00am
Pages: 256
Language: English
Categories