Small Doses: Potent Truths for Everyday Use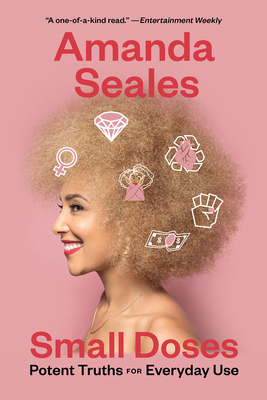 Small Doses: Potent Truths for Everyday Use
Out of Stock In Store
The paperback edition of Amanda Seales's wildly popular collection of sharp essays, poignant life advice, and no-holds-barred pearls of wisdom

Comedian, writer, actress, and social media star Amanda Seales is a force of nature who has fearlessly and passionately charted her own course through life and career. Now, in her one-of-a-kind voice that blends academic intellectualism, Black American colloquialisms, and pop culture fanaticism, she's bringing her life's lessons and laughs to the page. This volume of essays, axioms, original illustrations, and photos provides Seales's trademark "self-help from the hip" style of commentary, fueled by ideology formed from her own victories, struggles, research, mistakes, risks, and pay-offs. Unapologetic, fiercely funny, and searingly honest, Small Doses engages, empowers, and enlightens readers on how to find their truths while still finding the funny!
Amanda Seales is a stand-up comedian/actress/writer, with a masters in African-American studies from Columbia University. You know her as "Tiffany DuBois" on HBO's Insecure and the creator/host of LA's hit live black culture game show "Smart Funny & Black." She released her debut stand-up special, I Be Knowin, on HBO in January 2019, and speaks truth to change via her wildly popular Instagram and weekly podcast, Small Doses. A Jedi Khaleesi with a patronus that's a Black Panther with wings, she keeps audiences laughing, thinking, and living in their truth!