Ensuring a Better Future: Why Social Studies Matters: Why Social Studies Matters (Thought Leadership)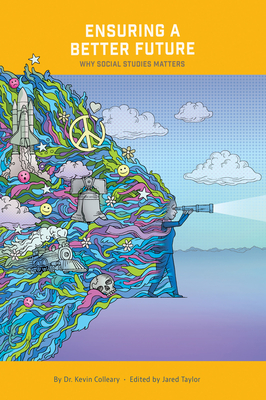 Ensuring a Better Future: Why Social Studies Matters: Why Social Studies Matters (Thought Leadership)
Out of Stock In Store
A timely book that explores the critical need for social studies to be equally taught in American public schools. Provides a call to action for all that understand the need to build an active and informed citizenry through more effective social studies education.
We have missed part of the equation for effective education. STEM became STEAM, but we forgot social studies and the importance of the skills and content it teaches. Ensuring a Better Future: Why Social Studies Matters explores the sacrifice of both many students' inherent skills/interests and an effectively informed and effective citizenry through prioritized Social Studies education in public schools. This book seeks to accelerate the pendulum swing away from strict STEAM education that the author and Jared feel is starting. It names and explores the issues of equitable funding and curriculum focus delinquency, the historical story about the swing away from social studies education, and how to energize our country in support of Social Studies education.
Dr. Kevin Colleary is an adjunct professor at Fordham University's Graduate School of Education in New York. His research and publications focus on social studies education, content area reading, critical thinking, diversity issues, best practices in teaching and learning, and helping teachers understand how to develop content driven literacy instruction at all grades.Dr. Colleary has been an elementary, middle school and high school teacher in Harlem and Brooklyn, New York. He has authored numerous chapters in a wide variety of educational texts and has been published in a variety of professional journals. He has been a member of the senior authorship team on several elementary-level US social studies curriculum programs. Dr. Colleary is also an English Language Specialist for the US State Department and Georgetown University. He is often requested for professional development and educational conference keynote presentations around the world. His thoughtful insights, energetic style and passionate delivery make him a sought-after speaker and professional developer. Dr. Colleary received his BA in history from Siena College, Albany NY. He also earned both his master's and doctorate in education from Harvard University, Cambridge, MA.A native New Yorker, Kevin currently lives in Helsinki, Finland with his husband Francisco, a diplomat.
ISBN: 9781423657996
ISBN-10: 9781423657996
Publisher: Gibbs Smith
Publication Date: 07/26/2022 - 12:00am
On Sale: 04/26/2022 - 12:00am
Pages: 160
Language: English
Categories
Teaching - Subjects - Social Science