The Blue Zones of Happiness: Lessons From the World's Happiest People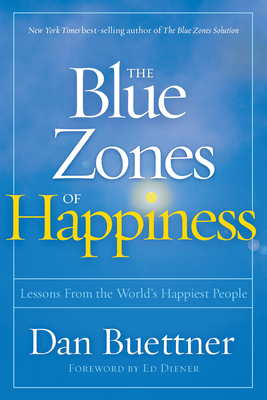 The Blue Zones of Happiness: Lessons From the World's Happiest People
Out of Stock In Store
New York Times best-selling author Dan Buettner reveals the surprising secrets of what makes the world's happiest places—and shows you how to apply these lessons to your own life.
     In this inspiring guide, you'll find game-changing tools drawn from global research and expert insights for achieving maximum fulfillment. Along the way, you'll:
 • Discover the three strands of happiness—pleasure, purpose, and pride—that feature prominently in the world's happiest places.
 • Take the specially designed Blue Zones Happiness Test to pinpoint areas in your life where you could cultivate greater joy, deeper meaning, and increased satisfaction.
 • Meet the world's Happiness All-Stars: inspiring individuals from Denmark to the United States who reveal dynamic, practical ways to improve day-to-day living.
 • Discover specific, science-based strategies for setting up a "life radius" of community, work, home, and self to create healthier, happiness-boosting habits for the long-term.
DAN BUETTNER is the founder of Blue Zones, an organization that helps Americans live longer, healthier lives. His groundbreaking work on longevity led to his 2005 National Geographic cover story "Secrets of Living Longer" and two national bestsellers, The Blue Zones and Thrive. He lives in Minneapolis, MN. Visit him on Facebook and Twitter, and at his website bluezones.com.
ISBN: 9781426219634
ISBN-10: 9781426219634
Publisher: National Geographic
Publication Date: 03/10/2020 - 12:00am
On Sale: 03/10/2020 - 12:00am
Pages: 288
Language: English
Categories
Self-help / Personal Growth / Happiness