Run the Storm: A Savage Hurricane, a Brave Crew, and the Wreck of the SS El Faro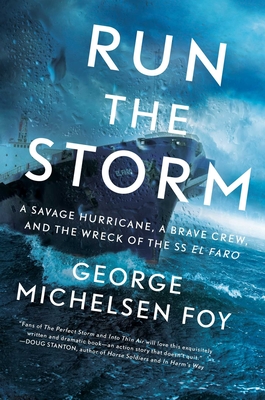 Run the Storm: A Savage Hurricane, a Brave Crew, and the Wreck of the SS El Faro
"Here is the pitch-perfect pairing of subject and author, a gripping deconstruction of one of recent history's most terrible and vexing sea tragedies...A meticulous forensic study that, in Foy's able hands, rises to the level of literature." --Hampton Sides
"Fans of The Perfect Storm and Into Thin Air will love this exquisitely written and dramatic book. George Foy has an action story that doesn't quit." --Doug Stanton
"Foy is an experienced mariner who clearly knows his stuff, which gives the reader confidence in his account, and allows us to get lost in an amazing story that builds to a wild finish." --John U. Bacon
In the bestselling tradition of The Perfect Storm and The Finest Hours, a harrowing true account of the mysterious disappearance of the SS El Faro, a gigantic American cargo ship that sank in the Bermuda Triangle, taking with it thirty-three lives.
On October 1, 2015, the SS El Faro, a massive American cargo ship that made regular runs between Jacksonville, Florida and Puerto Rico, delivering everything from deodorant to new Chevrolets, disappeared in Hurricane Joaquin, a category 4 storm. The ship, its hundreds of shipping containers, and its entire crew plummeted to the bottom of the ocean, three miles down. The sinking was the greatest seagoing US merchant marine shipping disaster since World War II. The massive ship had a seasoned crew, state-of-the-art navigation equipment, and advance warning of the storm. It seemed incomprehensible that such a ship could sink so suddenly. How, in this day and age, could something like this happen?
The answer is that a ship as large as the El Faro doesn't vanish for just one reason; it vanishes because many factors intersect--everything from hurricane-tracking algorithms to the decay of rubber gaskets on hatches to the arcane science of loading cargo containers to the psychology of a powerful ship's captain. All of these factors and more came into play in the sinking of the El Faro.
Relying on Coast Guard inquest hearings as well as on numerous interviews, George Michelsen Foy has crafted a brilliant account that brings to life the final voyage of El Faro, a story that lasts only a few days but which grows almost intolerably suspenseful as deep-rooted flaws leading to the disaster inexorably link together and worsen. We see captain, engineers, and crew fight for their lives, and hear their actual words (as recorded on the ship's black box) while the hurricane relentlessly tightens its noose around the ship. We watch, minute by minute, all that is happening on board--the ship's mysterious tilt to one side, worried calls to the engine room, ship-to-shore reports, the courage of the men and women as they fight to survive, and the berserk ocean's savage consumption of the massive hull. And through it all, the pain and ultimate resilience of the families of El Faro's crew. Meticulous and absolutely thrilling, Run the Storm is a masterwork of stunning power.
ISBN: 9781432852719
ISBN-10: 9781432852719
Publisher: Thorndike Press Large Print Press
Publication Date: 06/06/2018 - 12:00am
On Sale: 06/06/2018 - 12:00am
Language: English
Categories
Ecosystems & Habitats - Oceans & Seas