1 Corinthians: The Word of the Cross (Preaching the Word)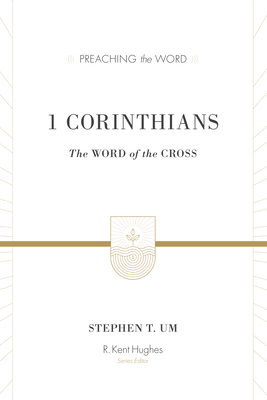 1 Corinthians: The Word of the Cross (Preaching the Word)
The issues addressed in the the book of 1 Corinthians are strikingly similar to the issues faced by the church today: sin, pride, disunity, and confused identities. Paul warns the Corinthians with words of exhortation, but not without profound encouragement. In doing so, he points modern readers to the hope offered to Christians as they follow Jesus in a fallen world.

In this commentary, pastor Stephen Um uses powerful illustrations and practical applications to point readers and teachers of the Bible to the heart of Paul's first letter to the Corinthians: the gospel of Jesus Christ that has the power to save, change, and unite God's people.

Part of the Preaching the Word series.
R. Kent Hughes (DMin, Trinity Evangelical Divinity School) is senior pastor emeritus of College Church in Wheaton, Illinois, and former professor of practical theology at Westminster Theological Seminary in Philadelphia, Pennsylvania. Hughes is also a founder of the Charles Simeon Trust, which conducts expository preaching conferences throughout North America and worldwide. He serves as the series editor for the Preaching the Word commentary series and is the author or coauthor of many books. He and his wife, Barbara, live in Spokane, Washington, and have four children and an ever-increasing number of grandchildren.Stephen Um (PhD, University of St. Andrews) serves as the senior minister of Citylife Church in Boston, Massachusetts. He also serves as a council member for the Gospel Coalition. Stephen lives in Boston, Massachusetts, with his wife, Kathleen, and their three daughters.