Mama Built a Little Nest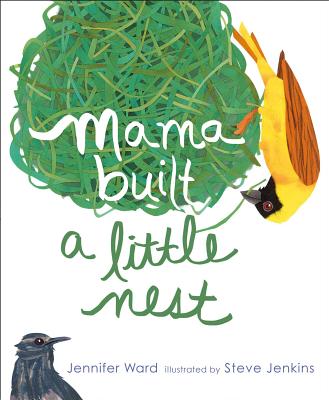 A delightful exploration of the incredibly variety of nests birds build for their babies, illustrated by a Caldecott Honoree.

Mama built a little nest
inside a sturdy trunk.
She used her beak to tap-tap-tap
the perfect place to bunk.

There are so many different kinds of birds—and those birds build so many different kinds of nests to keep their babies cozy. With playful, bouncy rhyme, Jennifer Ward explores nests large and small, silky and cottony, muddy and twiggy—and all the birds that call them home!
Jennifer Ward has written numerous award-winning picture books, including Just You and Me, illustrated by Alexander Vidal; How to Find a Bird, illustrated by Diana Sudyka; Round, illustrated by Lisa Congdon; and Mama Built a Little Nest and Mama Dug a Little Den, both illustrated by Steve Jenkins. A former elementary educator, Jennifer Ward is an experienced public speaker who travels the country, speaking in schools and at international and national writer and literacy conferences. She lives with her family in Edwardsville, Illinois. Visit her at JenniferWardBooks.com.

Steven Jenkins's many celebrated children's books include Can an Aardvark Bark? and Fourteen Monkeys by Melissa Stewart; Hello, Baby! by Mem Fox; Mama Built a Little Nest and Mama Dug a Little Den by Jennifer Ward; and the 2003 Caldecott Honor recipient, What Do You Do With a Tail Like This? by Robin Page. He lives in Boulder, Colorado. Visit him at SteveJenkinsBooks.com.