Electrocatalysis in Fuel Cells: A Non- And Low- Platinum Approach (Lecture Notes in Energy #9)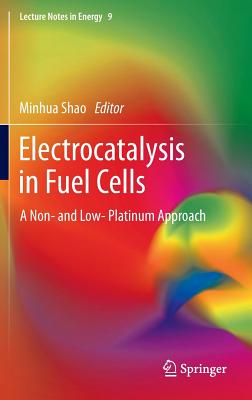 Electrocatalysis in Fuel Cells: A Non- And Low- Platinum Approach (Lecture Notes in Energy #9)
Fuel cells are one of the most promising clean energy conversion devices that can solve the environmental and energy problems in our society. However, the high platinum loading - and thus the high cost of fuel cells - prevents its commercialization. Non- or low- platinum electrocatalysts are needed to lower the fuel cell cost.
Electrocatalysis in Fuel Cells: A Non and Low Platinum Approach is a comprehensive book summarizing recent advances of electrocatalysis in oxygen reduction and alcohol oxidation, with a particular focus on non- and low-Pt electrocatalysts. All twenty four chapters were written by worldwide experts in their fields. The fundamentals and applications of novel electrocatalysts are discussed thoroughly in the book.
The book is geared toward researchers in the field, postgraduate students and lecturers, and scientists and engineers at fuel cell and automotive companies. It can even be a reference book for those who are interested in this area.
Minhua Shao is an Electrochemistry Fellow at UTC Power in South Windsor, Connecticut, USA. In collaboration with numerous universities, National Laboratories and automotive companies, Dr Shao has been leading the advanced catalysts team to design, synthesize and evaluate novel catalysts and supports for low- and medium- temperature fuel cells. He did his doctoral studies under the supervision of Dr. Radoslav Adzic at Brookhaven National Laboratory and earned his Ph.D. in Materials Science and Engineering in 2006 at State University of New York at Stony Brook, New York, USA.
ISBN: 9781447149101
ISBN-10: 9781447149101
Publisher: Springer
Publication Date: 04/17/2013 - 12:00am
On Sale: 04/17/2013 - 12:00am
Pages: 745
Language: English
Categories
Chemistry - Physical & Theoretical