Manfish: A Story of Jacques Cousteau (Jacques Cousteau Book for Kids, Children's Ocean Book, Underwater Picture Book for Kids)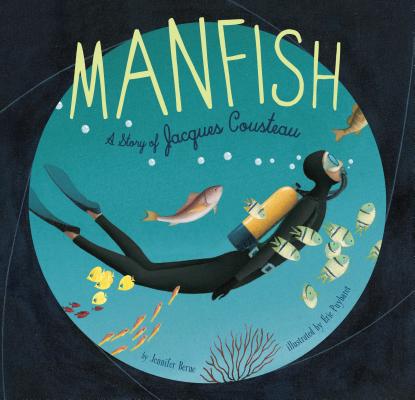 Manfish: A Story of Jacques Cousteau (Jacques Cousteau Book for Kids, Children's Ocean Book, Underwater Picture Book for Kids)
Out of Stock In Store
Once upon a time in France, a baby was born under the summer sun. His parents named him Jacques. As he grew, Jacques fell in love with the sea. He dreamed of breathing beneath the waves and swimming as gracefully as a fish. In fact, he longed to become a manfish. Jacques Cousteau grew up to become a champion of the seas and one of the best-known oceanographers in the world. In this lovely biography, now in paperback, poetic text and gorgeous paintings come together to create a portrait of Cousteau that is as magical as it is inspiring.
Jennifer Berne is the author of the acclaimed On a Beam of Light. She writes children's books about our amazing universe and the people who are passionate about it. She lives in Copake, New York.

Éric Puybaret is an award-winning illustrator of several books for children. He lives in Paris, France.