Small Victories: Recipes, Advice + Hundreds of Ideas for Home Cooking Triumphs (Best Simple Recipes, Simple Cookbook Ideas, Cooking Techniques Book)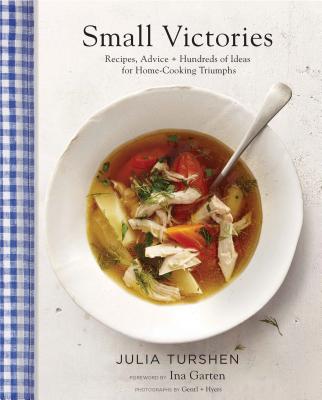 Small Victories: Recipes, Advice + Hundreds of Ideas for Home Cooking Triumphs (Best Simple Recipes, Simple Cookbook Ideas, Cooking Techniques Book)
Out of Stock In Store
"I can't wait to cook my way through this amazing new book!" – Ina Garten (Host of Barefoot Contessa)

"Simple, achievable recipes..." – Chef April Bloomfield (Owner of The Spotted Pig)

This cookbook of more than 400 simple cooking recipes and variations from Julia Turshen, writer, go-to recipe developer, co-author for best-selling cookbooks such as Gwyneth Paltrow's It's All Good, and Dana Cowin's Mastering My Mistakes in the Kitchen, and author of her cookbooks Now & Again and Feed the Resistance. The process of truly great home cooking ideas is demystified via more than a hundred lessons called out as "small victories" in the funny, encouraging headnotes; these are lessons learned by Julia through a lifetime of cooking thousands of meals. This beautifully curated, deeply personal collection emphasizes bold-flavored, honest food for breakfast, lunch, dinner, and dessert. More than 160 mouth-watering photographs from acclaimed photographers Gentl + Hyers provide beautiful instruction and inspiration, and a gingham spine elevates this entertaining and essential kitchen resource into a covetable gift cookbook for both beginners and accomplished home cooks.
Features high-quality photos of recipes to follow while cooking
Recipes crafted by the author to be both easy to make and follow
Readers of Feed The Resistance, Damn Delicious, and Sneaky Chef will enjoy the simplicity and deliciousness of all recipes featured in this book. This collection of recipes makes for an ideal:
Home Cooking Book
Healthy Recipes Cookbook
Technique Cookbook
Cookbook for Family Recipes
Julia Turshen is the bestselling author of Feed the Resistance, named the Best Cookbook of 2017 by Eater, and Small Victories, named one of the Best Cookbooks of 2016 by The New York Times and NPR. She has coauthored numerous cookbooks including It's All Good with Gwyneth Paltrow, and hosted the first two seasons of Radio Cherry Bombe. She has written for The New York Times, The Washington Post, The Wall Street Journal, Vogue, T Magazine, Bon Appétit, Food & Wine, Saveur, and SELF. Epicurious has called her one of the 100 Greatest Home Cooks of All Time. Julia lives in the Hudson Valley with her wife and pets.

Ina Garten is a cookbook author and host of Barefoot Contessa on the Food Network. She lives in East Hampton, New York, and Southport, Connecticut.