Top 10 Miami and the Keys (DK Eyewitness Travel Guide)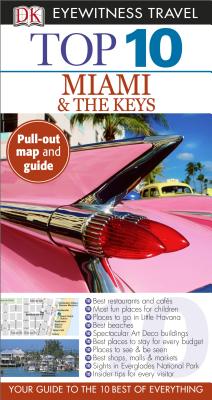 Top 10 Miami and the Keys (DK Eyewitness Travel Guide)
DK Eyewitness Travel Guides: the most maps, photography, and illustrations of any guide.
DK Eyewitness Travel Guide: Top 10 Miami and the Keys is your pocket guide to this exciting city and island chain in Florida.
Spectacular Art Deco buildings. Gorgeous beauty in Everglades National Park. Unique places to visit in Little Havana: So many places to see and be seen in Miami and the Florida Keys, and one travel guide to give you insider tips, help you find unique spots to visit, and locate best places to stay for every budget. Find the best beaches, the most popular shops and malls, hidden gems, great restaurants and cafes, and fun places to bring children for a great vacation in Miami or the Keys in our Top 10 Travel Guide.
Discover DK Eyewitness Travel Guide: Top 10 Miami and the Keys
True to its name, this Top 10 guidebook covers all major sights and attractions in easy-to-use "top 10" lists that help you plan the vacation that's right for you.
"Don't miss" destination highlights
Things to do and places to eat, drink, and shop by area
Free, color pull-out map (print edition), plus maps and photographs throughout
Walking tours and day-trip itineraries
Traveler tips and recommendations
Local drink and dining specialties to try
Museums, festivals, outdoor activities
Creative and quirky best-of lists and more
The perfect pocket-size travel companion: DK Eyewitness Travel Guide: Top 10 Miami and the Keys
Recommended: For an in-depth guidebook to the state of Florida, check out DK Eyewitness Travel Guide: Florida, which offers the most complete cultural coverage of Miami, the Keys, and Florida; trip-planning itineraries by length of stay; 3-D cross-section illustrations of major sights and attractions; thousands of photographs, illustrations, and maps; and more.
About DK Eyewitness Travel Guides For more than two decades, DK Eyewitness Travel Guides have helped travelers experience the world through the history, art, architecture, and culture of their destinations. Expert travel writers and researchers provide independent editorial advice, recommendations, and reviews. With guidebooks to hundreds of places around the globe available in print and digital formats, DK Eyewitness Travel Guides show travelers how they can discover more.
ISBN: 9781465425638
ISBN-10: 9781465425638
Publisher: DK Eyewitness Travel
Publication Date: 01/19/2015 - 12:00am
On Sale: 01/19/2015 - 12:00am
Pages: 160
Language: English
Categories
Travel / United States / South / South Atlantic (DC, DE, FL, GA, MD, NC, SC, VA, WV)
Travel / Museums, Tours, Points of Interest