Thunder in the East: The Nazi-Soviet War 1941-1945 (Modern Wars)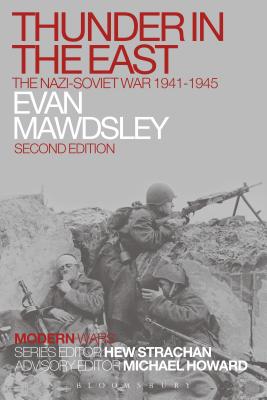 Thunder in the East: The Nazi-Soviet War 1941-1945 (Modern Wars)
Out of Stock In Store (Click to Order)
Thunder in the East, originally published in 2005, is widely regarded as the best short history of the entire Nazi-Soviet military conflict. It tells the story from the pre-war expectations of Hitler and Stalin, through the pivotal battles deep in Russia in 1942-43, and on to the huge Soviet offensives across Eastern Europe in 1944-45. This final 'march of liberation' destroyed the Third Reich and set Europe's history for the next 45 years. The book provides penetrating answers to vital questions: Why did the war in the East develop as it did? Why did Hitler's Wehrmacht lose? Why did the Red Army win, and why did the people of Soviet Russia pay such a high price for victory?
The first edition took advantage of the flood of new sources that followed the end of the Soviet era. This second edition takes account of what has been written over the last decade; the Nazi-Soviet war, in all its aspects, has continued to be the subject of extensive and innovative research and heated controversy.
Evan Mawdsley is former Professor of International History at the University of Glasgow, UK. He has written extensively on 20th-century Russia and World War Two.
ISBN: 9781472507563
ISBN-10: 9781472507563
Publisher: Bloomsbury Publishing PLC
Publication Date: 11/19/2015 - 12:00am
On Sale: 11/19/2015 - 12:00am
Pages: 536
Language: English
Categories