Vow Unbroken: A Novel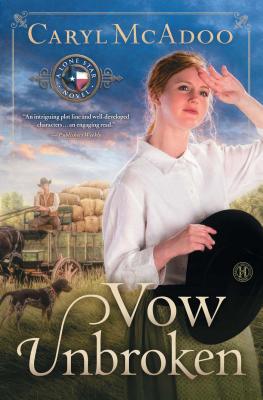 Vow Unbroken: A Novel
Out of Stock In Store
A spunky young widow hires a farmhand with a bad reputation to help her get her cotton to Jefferson to meet the wagon train, and sparks fly—but can she love a man who doesn't love the Lord?

Susannah Abbot Baylor reluctantly hires Henry Buckmeyer to help her along the Jefferson Trace, the hard stretch of land between her Texas farm and the cotton market, where she is determined to get a fair price for her crop. It's been a rough year, and she's in danger of losing the land her husband left to her and the children, but she'll need help getting both of her wagons to Jefferson safely. She knows Henry's reputation as a layabout and is prepared for his insolence, but she is not expecting his irresistible good looks or his gentle manner. Soon they are entwined in a romantic relationship that only gets more complicated when Susannah learns that Henry doesn't know God the way she does. Dangers arise on the road—but none as difficult as the trial her heart is going through.

Will Susannah and Henry's love overcome their differences? And will she get her crop safely to the cotton market with enough money to save the farm? In this heartening and adventurous tale, a young woman's fortitude, faith, and heart are put to the ultimate test.
Caryl McAdoo lives in Red River County, Texas, where she brags the nearest soda pop or gasoline is almost ten miles from home. In the country setting of the Texas piney woods, she enjoys four wheeling over the 916-acre McAdoo Ranch, horseback riding, and caring for donkeys, dairy goats, chickens, and a plethora of dogs and cats. Caryl credits her relationship with the Lord for every good blessing in her life, including ten children (counting "in-loves") and fourteen grandsugars. Her heart's desire is to bring Him glory.
ISBN: 9781476735511
ISBN-10: 9781476735511
Publisher: Howard Books
Publication Date: 03/04/2014 - 12:00am
On Sale: 03/04/2014 - 12:00am
Pages: 368
Language: English
Categories
Fiction / Romance / Historical