The Mythic Dream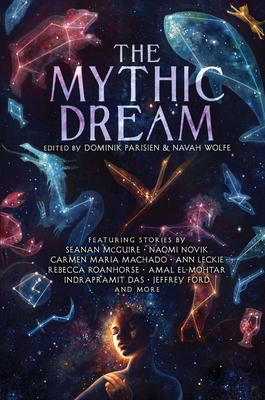 The Mythic Dream
Editor Dominik Parisien ,
Navah Wolfe ,
John Chu ,
Leah Cypess ,
Indrapramit Das ,
Amal El-Mohtar ,
Jeffrey Ford ,
Sarah Gailey ,
Carlos Hernandez ,
Kat Howard ,
Stephen Graham Jones ,
T. Kingfisher ,
Ann Leckie ,
Carmen Maria Machado ,
Arkady Martine ,
Seanan McGuire ,
Naomi Novik ,
Rebecca Roanhorse ,
Alyssa Wong ,
J.Y. Yang
Out of Stock In Store (Click to Order)
An all-new anthology of eighteen classic myth retellings featuring an all-star lineup of award-winning and critically acclaimed writers.

Madeleine L'Engle once said, "When we lose our myths we lose our place in the universe." The Mythic Dream gathers together eighteen stories that reclaim the myths that shaped our collective past, and use them to explore our present and future. From Hades and Persephone to Kali, from Loki to Inanna, this anthology explores retellings of myths across cultures and civilizations.

Featuring award-winning and critically acclaimed writers such as Seanan McGuire, Naomi Novik, Rebecca Roanhorse, JY Yang, Alyssa Wong, Indrapramit Das, Carlos Hernandez, Sarah Gailey, Ann Leckie, John Chu, Urusla Vernon, Carmen Maria Machado, Stephen Graham Jones, Arkady Martine, Amal El-Mohtar, Jeffrey Ford, and more, The Mythic Dream is sure to become a new classic.
Dominik Parisien is an editor, poet, and writer. He is the co-editor, with Navah Wolfe, of The Mythic Dream, Robots vs Fairies, and The Starlit Wood. Together their anthologies have won the Shirley Jackson Award and have been finalists for the World Fantasy, British Fantasy, Ignyte, and Locus Award. He also won the Hugo, British Fantasy, and Aurora Award for co-editing Disabled People Destroy Science Fiction with Elsa Sjunneson. His debut poetry collection Side Effects May Include Strangers was published by McGill-Queen's University Press. Dominik is a disabled, bisexual French Canadian. He lives in Toronto.

Navah Wolfe is a Hugo Award–nominated editor at Saga Press and the coeditor of The Starlit Wood: New Fairy Tales and Mythic Dream, along with Dominik Parisien. She was previously an editor at Simon & Schuster Books for Young Readers, where she worked on many bestselling books, including some that have won awards such as the Printz Honor, The Pura Belpré Award, The Pen/Faulkner Award, The Stonewall Award, the Lambda Literary Award, and the Schneider Family Award.

Amal El-Mohtar is an award-winning author, editor, and critic. Her short story "Seasons of Glass and Iron" won the Hugo, Nebula, and Locus awards and was a finalist for the World Fantasy, Sturgeon, Aurora, and Eugie Foster awards. She is the author of The Honey Month, a collection of poetry and prose written to the taste of twenty-eight different kinds of honey, and contributes criticism to NPR Books and The New York Times. Her fiction has most recently appeared on Tor and Uncanny Magazine, and in anthologies such as The Djinn Falls in Love & Other Stories and The Starlit Wood: New Fairy Tales. She is presently pursuing a PhD at Carleton University and teaches creative writing at the University of Ottawa. She can be found online at @Tithenai.

Sarah Gailey is an internationally published writer of fiction and nonfiction and a winner of the Hugo Award. Their nonfiction has been published by Mashable and The Boston Globe, and they are a regular contributor for Tor. Their most recent fiction credits include Fireside Fiction and Uncanny Magazine. Find out more at SarahGailey.com and find them on Twitter @GaileyFrey.

Kat Howard's short fiction has been nominated for the World Fantasy Award, anthologized in best of and annual best of collections, and performed on NPR. She is the author of the critically acclaimed Roses and Rot and the Alex Award–winning An Unkindness of Magicians. She is also the writer of the Books of Magic series, set in the Sandman Universe. She lives in New Hampshire, and you can find her on twitter at @KatWithSword.

Stephen Graham Jones is the New York Times bestselling author of The Only Good Indians. He has been an NEA fellowship recipient, has won the Jesse Jones Award for Best Work of Fiction from the Texas Institute of Letters, the Independent Publishers Award for Multicultural Fiction, a Bram Stoker Award, four This is Horror Awards; and has been a finalist for the Shirley Jackson Award and the World Fantasy Award. He is the Ivena Baldwin Professor of English at the University of Colorado Boulder.

T. Kingfisher, also known as Ursula Vernon, is the author and illustrator of many projects, including the webcomic "Digger," which won the Hugo Award for Best Graphic Story and the Mythopoeic Award. Her novelette "The Tomato Thief" won the Hugo Award for Best Novelette, and her short story "Jackalope Wives" won the Nebula Award for Best Story. She is also the author of the bestselling Dragonbreath, and the Hamster Princess series of books for children. Find her online at RedWombatStudio.com.

Seanan McGuire is the author of Every Heart a Doorway, the October Daye urban fantasy series, the InCryptid series, and several other works, both standalone and in trilogies. She also writes darker fiction as Mira Grant. She was the winner of the 2010 John W. Campbell Award for Best New Writer, and in 2013 she became the first person ever to appear five times on the same Hugo ballot.

Rebecca Roanhorse is the New York Times bestselling author of Trail of Lightning, Storm of Locusts, Black Sun, and Star Wars: Resistance Reborn. She has won the Nebula, Hugo, and Locus Awards for her fiction, and was the recipient of the 2018 Astounding (formerly Campbell) Award for Best New Writer. The next book in her Between Earth and Sky series, Fevered Star, is out in March 2022. She lives in New Mexico with her family.
ISBN: 9781481462396
ISBN-10: 9781481462396
Publisher: Gallery / Saga Press
Publication Date: 09/03/2019 - 12:00am
On Sale: 09/03/2019 - 12:00am
Pages: 368
Language: English
Categories
Fiction / Fantasy / Collections & Anthologies