Death Bee Comes Her (An Oregon Honeycomb Mystery #1)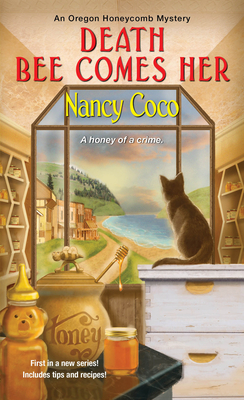 Death Bee Comes Her (An Oregon Honeycomb Mystery #1)
Nancy Coco, author of the popular Candy-Coated Mystery series, brings the Pacific Northwest's rainy coast to life with her new Oregon Honeycomb Mystery series starring Wren Johnson and her Havana Brown cat, Everett. Wren owns a specialty shop in the tourist town of Oceanview, where it's all things honey from taffy to body scrub until the murder of a victim clutching one of Wren's homemade beeswax lip balms makes things sticky...

A BALMY WAY TO GO

With her Let It Bee honey boutique buzzing along nicely, life is as sweet as nectar for Wren Johnson--until she takes a morning walk along the Pacific beach with her Havana Brown cat, Everett, and stumbles upon the body of Agnes Snow, the cranky queen of the local craft fairs, stiff as driftwood. More unfortunate? Clutched in the victim's fist is a label from Wren's homemade beeswax-and-honey lip balm. Which makes Officer Jim Hampton focus his dreamy-blue Paul Newman eyes on Wren as suspect number one.

With fabulous feline support from Everett, Wren must comb the town for clues and clear her name before someone else gets stung.
Nancy Coco is the byline chosen by popular author Nancy J. Parra for use exclusively with the Candy-Coated Mysteries series. With degrees in engineering, journalism and a MA in Writing Popular Fiction, Nancy has published in cozy mystery, romantic suspense, and sweet western historical romances.
 
An Air Force veteran who rose to the rank of sergeant, Nancy is a member of an on-line group of female veterans who are authors—"Military Women Who Have Turned Sword to Pen." The group's website is www.romvets.com.
 
Nancy is also a member of Mystery Writers of America and Sisters in Crime. She has given workshops on a number of writing topics and enjoys doing author panels at fan conferences such as Malice Domestic and Bouchercon. She lives in California with her dog—a bichonpoo affectionately known as Little Dog on Nancy's Facebook and Twitter accounts. Check out Nancy's website at www.nancyjparra.com.
 
The author will donate a portion of her earnings from this book to the ASPCA®. Learn what you can do to help at www.aspca.org/donate.