Have Yourself a Fudgy Little Christmas (A Candy-coated Mystery #8)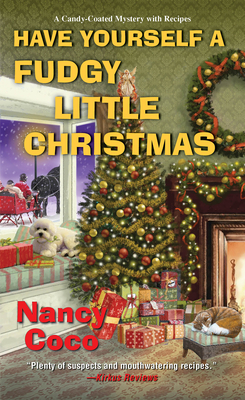 Have Yourself a Fudgy Little Christmas (A Candy-coated Mystery #8)
In Nancy Coco's eighth Candy-Coated Mystery, Christmas on Mackinac Island brings a flurry of festive activity for fudge shop owner Allie McMurphy--but also a body in a snowbank. With fun recipes, cute pets, quirky characters, and an endearing young protagonist, the Candy-Coated Mysteries have the perfect ingredients for cozy mystery fans!

All Allie wants for Christmas is for renovations to be finished on the Historic McMurphy Hotel and Fudge Shop so she can move back home for the holidays. But for now she's staying in her friend Frances' apartment, busily baking batches of holiday fudge. After someone leaves a mysterious note on the door to meet up, the curious fudge maker goes to the rendezvous with her Bichonpoo, Mal--only to discover a woman facedown in a snowdrift. With her dying breath, the woman gasps, "Frances." The police suspect she named her killer, but Allie knows that's impossible. She needs to wrap up this case before the trail runs cold--and give her friend the gift of freedom this Christmas season...
Nancy Coco is the byline chosen by popular author Nancy J. Parra for use exclusively with the Candy-Coated Mysteries series. With degrees in engineering, journalism and a MA in Writing Popular Fiction, Nancy has published in cozy mystery, romantic suspense, and sweet western historical romances.
 
An Air Force veteran who rose to the rank of sergeant, Nancy is a member of an on-line group of female veterans who are authors—"Military Women Who Have Turned Sword to Pen." The group's website is www.romvets.com.
 
Nancy is also a member of Mystery Writers of America and Sisters in Crime. She has given workshops on a number of writing topics and enjoys doing author panels at fan conferences such as Malice Domestic and Bouchercon. She lives in California with her dog—a bichonpoo affectionately known as Little Dog on Nancy's Facebook and Twitter accounts. Check out Nancy's website at www.nancyjparra.com.
 
The author will donate a portion of her earnings from this book to the ASPCA®. Learn what you can do to help at www.aspca.org/donate.