The Little Book of More Calm Coloring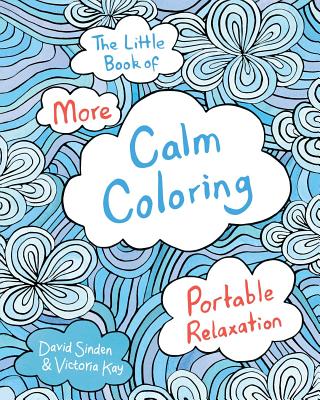 The Little Book of More Calm Coloring
Likely On Our Shelves
The second book in the international bestselling adult coloring book series, The Little Book of More Calm Coloring features all-new illustrations and inspirational quotes—and it's pocket-sized, so you can bring it anywhere!

Take relaxation to the next level! Alleviate anxiety and soothe all stress with The Little Book of More Calm Coloring, the perfectly formed, sought-after antidote to a busy life. Beautifully hand-illustrated and thoughtfully designed for portability, you can now take coloring art therapy with you wherever you go. With beautiful tranquil designs, this gorgeous coloring book will help your creativity flourish. Take a short relaxing breather from your stressful day to color calming images and feel inspired by the poignant quotations that accompany each elegant artwork.
David Sinden studied Fine Art at Central Saint Martins College of Art and Design before qualifying as an art teacher at the Institute of Education, London University. He works professionally as an art tutor, designer, children's book writer, illustrator, and TV development producer. He is the co-creator of the creative art journals Anti-Journal and Post This.

Victoria Kay is an illustrator from London, England, a primary school teacher, and tutor, having trained at the Institute of Education, London University. Her current school is one of the forerunners in introducing mindfulness in UK schools. With a passion for all things creative, Victoria spends much of her time patterning, sewing or painting, and creating innovative art projects for her students.