SAT Study Guide Premium, 2023: 8 Practice Tests + Comprehensive Review + Online Practice (Barron's Test Prep)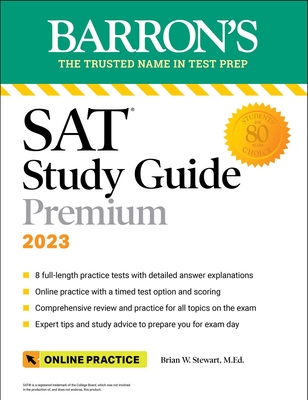 SAT Study Guide Premium, 2023: 8 Practice Tests + Comprehensive Review + Online Practice (Barron's Test Prep)
Likely On Our Shelves
ALL NEW Barron's SAT Premium Study Guide includes everything you need to be prepared for exam day with comprehensive review and practice that reflects the most recent SAT! This edition also incudes the most up-to-date information on the new digital exam. 

All the Review You Need to Be Prepared

An expert overview of the SAT, including test scoring methods and advice on college entrance requirements
In-depth subject review covering all sections of the test: Reading, Writing and Language, and Mathematics
Hundreds of additional practice questions in each subject review section 
Tips and strategies throughout from our Barron's author and SAT expert
Practice with Confidence
8 full-length practice tests--5 in the book and 3 online-- including 1 diagnostic test to assess your skills and target your studying
Review chapters contain additional practice questions on each subject
All practice questions include detailed answer explanations
Online Practice
3 full-length practice tests online with a timed test option to simulate exam experience
Detailed answer explanations included with expert advice
Scoring to check your learning progress
About the Author
Brian W. Stewart, M.Ed., Dublin, OH
Brian is the author of ACT, SAT, and PSAT test preparation books published through Barron's Educational Series. Brian is the President of BWS Education Consulting, Inc., a test preparation and tutoring company based in Columbus, Ohio and Indianapolis, Indiana: www.bwseducationconsulting.com. Brian and his staff have helped students achieve perfect scores on the ACT, SAT, and PSAT, and reach their college admissions goals. BWS Education Consulting is available to work with students anywhere in the world via online tutoring.

About the Publisher
In the 1930s, Manuel H. Barron opened a bookstore in Brooklyn, New York. 

People from the community asked Mr. Barron about books that might be available to help their children study for the New York State Regents exams. After realizing there wasn't anything available, Mr. Barron created his own study guides.

80 years later, Barron's has helped millions of people prepare for their next step.
ISBN: 9781506264578
ISBN-10: 9781506264578
Publisher: Barrons Educational Services
Publication Date: 07/05/2022 - 12:00am
On Sale: 07/05/2022 - 12:00am
Pages: 1056
Language: English
Categories