PTCE: Pharmacy Technician Certification Exam Premium: 4 Practice Tests + Comprehensive Review + Online Practice (Barron's Test Prep)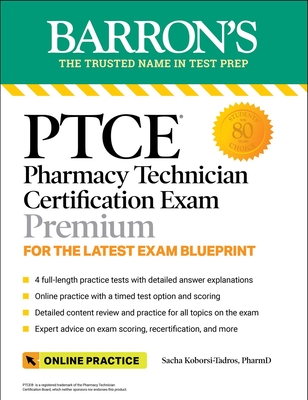 PTCE: Pharmacy Technician Certification Exam Premium: 4 Practice Tests + Comprehensive Review + Online Practice (Barron's Test Prep)
Out of Stock In Store (Available to Order)
Barron's PTCE: Pharmacy Technician Certification Exam includes in-depth content review and online practice. It's the only book you'll need to be prepared for exam day.

Written by Experienced Educators

Learn from Barron's--all content is written and reviewed by instructors who have vast experience teaching pharmacy technician courses to prepare students for certification
Build your understanding with comprehensive review tailored to the most recent exam blueprint
Get a leg up with tips, strategies, and advice for scheduling your exam, exam day itself, and recertification--it's like having a trusted tutor by your side
Be Confident on Exam Day
Sharpen your test-taking skills with 4 full-length practice tests--3 in the book (including a pretest to target your studying), and 1 more online 
Strengthen your knowledge with in-depth review covering all major topics and knowledge domains on the latest exam blueprint
Reinforce your learning with practice questions at the end of each chapter
Expand your review with a series of appendices that cover the top 200 medications, common vitamins and natural supplements, frequently used pharmacy abbreviations and medical terminology, and much more
Online Practice
Continue your practice with 1 full-length practice test on Barron's Online Learning Hub
Simulate the exam experience with a timed test option
Deepen your understanding with detailed answer explanations and expert advice
Gain confidence with scoring to check your learning progress
About the Author
Sacha Koborsi-Tadros, PharmD (Columbus, Ohio) is an instructor of both the Allied Health department and the Social and Human Services department at Columbus State Community College in Columbus, OH, and she has helped develop and instruct pharmacy technician courses to prepare students for certification. She has also instructed pharmacology courses (specializing in substance abuse prevention and treatment) and participated in professional board review courses. In addition, Dr. Koborsi-Tadros is a professional speaker, who has given presentations on pharmacy technician training, and she has received recognition by the PTCB (the nongovernmental agency that administers the PTCE exam) to serve as an advocate educator. 

About the Publisher
In the 1930s, Manuel H. Barron opened a bookstore in Brooklyn, New York. 

People from the community asked Mr. Barron about books that might be available to help their children study for the New York State Regents exams. After realizing there wasn't anything available, Mr. Barron created his own study guides.

80 years later, Barron's has helped millions of people prepare for their next step.
ISBN: 9781506280424
ISBN-10: 9781506280424
Publisher: Barrons Educational Services
Publication Date: 06/07/2022 - 12:00am
On Sale: 06/07/2022 - 12:00am
Pages: 288
Language: English
Categories
Medical / Test Preparation & Review