Run the Storm: A Savage Hurricane, a Brave Crew, and the Wreck of the SS El Faro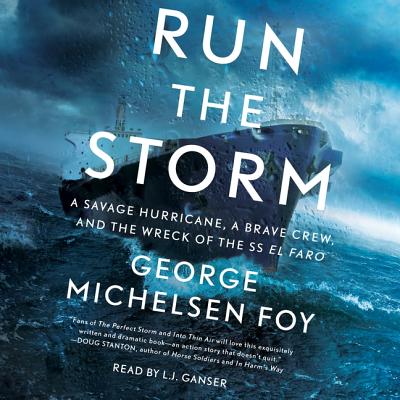 Run the Storm: A Savage Hurricane, a Brave Crew, and the Wreck of the SS El Faro
In the bestselling tradition of A Perfect Storm and The Finest Hours, a harrowing account of the incredible true story of the recent shocking disappearance of El Faro, a gigantic American cargo ship that sank suddenly in the Bermuda Triangle in 2015-taking with it thirty-three lives
On October 1, 2015, the SS El Faro, a cargo ship tall as a hundred-story building that made a regular run between Jacksonville, Florida, and Puerto Rico, delivering everything from razor blades to new Chevrolet cars, disappeared in Hurricane Joaquin, a Category 4 storm. The ship, her hundreds of shipping containers, and her entire crew sank to the bottom of the ocean, three miles down. The sinking was the greatest seagoing US merchant marine shipping disaster since World War II, and evoked the haunting resonances of Gordon Lightfoot's famous song, The Wreck of the Edmund Fitzgerald. The massive ship had a seasoned crew, state-of-the-art navigation equipment, advance warning of the storm, and knowledge of its supposed track. It seemed incomprehensible that such a ship could sink so suddenly, unable to send even a Mayday call before disappearing. How, in this day and age, could something like this happen?
The answer is that a ship as large as the El Faro doesn't sink for just one reason; it sinks because many factors intersect-everything from hurricane-tracking algorithms to the decay of rubber gaskets on hatches to the arcane science of loading shipping containers to the complex relationship between a ship's captain and his corporate overlords, who are anxious that cargo be delivered on time. All of these factors and more came into play in the sinking of the El Faro.
Relying on Coast Guard inquest hearings as well as numerous interviews, Foy has crafted a brilliant account that brings to life the last voyage of El Faro, from her loading to her shocking demise, a story lasting only a few days but which relentlessly becomes more suspenseful as the deep-rooted flaws leading to the ship's sinking inexorably link together and worsen. As we anxiously watch the captain and his crew, the hurricane tightens like a noose around the ship and we see, minute to minute, all that is happening-the dangerous tilting to the port side, the frantic calls to the engine room, the ship-to-shore cries, the loss of propulsion, the courage of the men and women as they fight for survival, and the berserk ocean's savage consumption of the massive hull. And through it all, the pain and ultimate resilience of the families of El Faro's crew.
Meticulous and absolutely thrilling, Run the Storm is a masterwork of stunning power.
ISBN: 9781508264002
ISBN-10: 9781508264002
Publisher: Simon & Schuster Audio
Publication Date: 05/01/2018 - 12:00am
On Sale: 05/01/2018 - 12:00am
Language: English
Categories
Ecosystems & Habitats - Oceans & Seas