The William Greenberg Desserts Cookbook: Classic Desserts from an Iconic New York City Bakery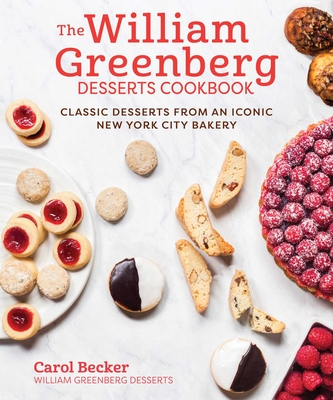 The William Greenberg Desserts Cookbook: Classic Desserts from an Iconic New York City Bakery
**Ina Garten named the Black & White cookie at William Greenberg Desserts the best in New York City**

A Slice of Classic New York with Sweet Recipes that Cover Every Craving, from Rugelach to Lemon Bars to Matzoh Walnut Brownies and Coconut Layer Cake

William Greenberg Desserts has been a New York City staple for more than seventy years. While maintaining and celebrating the signature recipes, such as the Linzer Tarts and classic Hamantaschen, and, of course, the Black & White cookie, this book will offer new and refreshing recipes as well. The bakery triggers nostalgia in certain generations, but a newer audience is building their own memories with inspiring new flavors—for example, without taking away schnecken and hot cross buns, modern goodies like cake pops, whoopee pies, and rainbow cakes are now available, too! Recipes will include:
 

Honey loaf
Chocolate pistachio biscotti
Butter pecan sandies
Rocky road brownies
Raisin scones
Chocolate chip pound cake
And many more!
This cookbook will carry on the tradition Mr. Greenberg started decades ago. It will maintain his legacy by including stories from Mr. Greenberg, as well as longtime customers, and members of the baking team who were trained by Mr. Greenberg himself, and are now teaching the next generation. Not only are original recipes still followed, but that attention to quality that established the bakery's reputation in the 1940s continues to this day. 
Like other New York icons—Russ & Daughters, Katz's Deli, Nathan's Hot Dogs—the upper east side mainstay has become part of the fabric of the city. The timeless recipes are exactly the type of simple yet immensely satisfying sweets everyone wants. These recipes transcend trends while appealing to modern palates. This book adds a fresh perspective to the bakery and its recipes, while also staying true to the tradition and community its customers have loved for decades.
Carol Becker is the owner of William Greenberg Desserts, a famed New York City institution. Since taking over a decade ago, Becker has ushered the beloved Madison Avenue destination into a new era while respecting its heritage and deepening community ties through philanthropy. Becker started baking for fun while working as a marketing executive at a spirits importer, wowing friends with fresh loaves of Challah. She attended the Institute of Culinary Education in 2001 and previously ran her own baking business, Bread & Batter. Becker has fond memories of William Greenberg Desserts from her childhood growing up in the city—she knows it is not just a bakery, but also an integral part of the community. Carol Becker resides in New York City.