The Art of Routine: Discover How Routineology Can Transform Your Life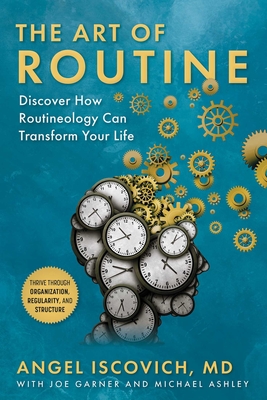 The Art of Routine: Discover How Routineology Can Transform Your Life
Out of Stock In Store (Click to Order)
This is not a "How to."

There is no "one size fits all" when it comes to routine. Dr. Iscovich shares his original study of routine—learn through his observations how routine can improve longevity, performance, and adaptability. You will be better equipped to construct a routine that works best for you!
 
Conventional wisdom suggests that the best way to navigate our noisy new world is to accept change. Open up to novelty. Go with the flow. Live in the moment. Embrace the relentless pelting of content minute by minute. But routine experts Angel Iscovich, MD, Joe Garner, and Michael Ashley are here to say that's a bad idea. Humans don't just benefit from structure; they require it.
 
Years of observation and practice led to their breakthrough concept of routineology, the key to optimize your life and the cure for crisis. Routineology's fundamental prescriptive is to look inside and live your life in a "time bubble" to find purpose, meaning, and joy. Offering insights from top performers and stories of triumph over adversity, this book demonstrates that routine isn't just a good idea—it's imperative for surviving and thriving today.
 
Live a life of deeper meaning and navigate toward a better world with The Art of Routine.
Angel Iscovich, MD, is a philosopher who happened to train in medicine. Native to Buenos Aires, Argentina, immigrating to the United States made for a world of opportunity and led him on a journey of thought, medicine, and compassion in the hopes of making a better world. Angel's residency training in psychiatry and interest in human behavior made emergency medicine the perfect venue to explore crisis in its very essence. As a former CEO of several successful companies, he exercised leadership, organizational development, and strategy in the corporate health care sector, and currently serves and guides a number of companies and charitable organizations. He lives in Santa Barbara, California.
 
Joe Garner is a six-time New York Times bestselling author. Among his other bestsellers are 100 Yards of Glory, Joe's fourth collaboration with famed sportscaster Bob Costas. Jeff Gordon: His Dream, Drive & Destiny, the first-ever authorized biography of the racing legend, was Joe's sixth New York Times bestseller. He lives in Los Angeles, California.
 
Michael Ashley is a former Disney screenwriter and the coauthor of Own the A.I. Revolution which launched at the United Nations and was named by Soundview as one of 2019's top business books. A guest contributor to Forbes and Entrepreneur, Michael is a regular keynote speaker and podcast guest on cultural matters and thought leadership. He lives in Mission Viejo, California.