Room and Board: A Novel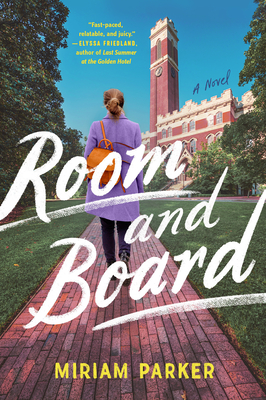 A charming and redemptive novel about unexpected second chances, following a publicist who, after the sudden implosion of her career, takes a job as a dorm mom at a Sonoma boarding school that happens to be her alma mater

Gillian thought she had everything she ever wanted—as a successful publicist running her own Manhattan firm and working with a high-profile-celebrity clientele, she finally made herself at home among the elite who eluded her throughout her youth. That is, until her career implodes, leaving her jobless, friendless, and with a googleable reputation that follows her everywhere. So, when she receives an offer to become a "dorm mom" at Glen Ellen Academy, the prestigious Sonoma boarding school she attended two decades earlier on scholarship, she leaps at the opportunity for a change of scene—at least until she can figure out how to rehabilitate her career.
 
But Gillian is surprised to find herself enjoying her new life: her role as a mentor is unexpectedly fulfilling, she finds a community, and most surprisingly of all she runs into an old flame from her own time at school, who is just as dashing now as he was then. However, just as she begins to feel comfortable, a scandal surfaces on campus that threatens to derail everything, and Gillian must figure out how to save her job, her students, her friends, and her new romance before it's too late.
Miriam Parker is the associate publisher of Ecco and the author of The Shortest Way Home and Room and Board. She has an MFA in creative writing from UNC Wilmington and a BA in English from Columbia University. She lives in Brooklyn with her husband, daughter, and spaniel, Leopold Bloom.
ISBN: 9781524744502
ISBN-10: 9781524744502
Publisher: Dutton
Publication Date: 08/16/2022 - 12:00am
On Sale: 08/16/2022 - 12:00am
Pages: 304
Language: English
Categories
Fiction / Romance / Contemporary