Instead of Modernity: The Western Canon and the Incorporation of the Hispanic (C. 1850-75)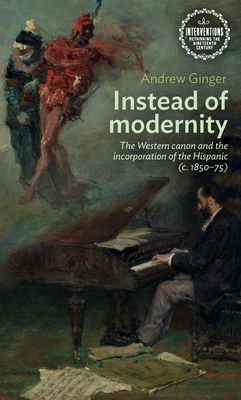 Instead of Modernity: The Western Canon and the Incorporation of the Hispanic (C. 1850-75)
'When all that was solid melted into air...' For decades, intellectuals from Benjamin to Bourdieu, Berman to Foucault, have been in thrall to this vision of the mid-nineteenth century. It shaped and underpinned their most influential thoughts, its legacy insinuated into institutionalised theories of culture. In this new book, that vision implodes, as if in a cultural supernova, its exceptionalism and limitations exposed. The story of modernity fades before a spectacle of linkages, stretching from and into the depths of history, the breadths of place. And, in a parallel substitution, the vast territories of the former Spanish Empire's thread through the narrative, rather than lurking on the peripheries, no longer just the fallen founders of modernity.
Instead of modernity goes to the very heart of comparative cultural study: the question of what happens when intimate, dynamic connections are made over place and time, what it is to feel at home amid the lavish diversity of culture. This ambitious interdisciplinary book reconsiders foundational figures of the modern western canon, from Darwin to Cameron, Baudelaire to Whistler and Manet. It weaves together brain images from France, preserved insects from the Americas, glass in London, poetry from Argentina, paintings from Spain. Flaubert, Whitman, and Nietzsche find themselves with Hostos from Puerto Rico and Gorriti from Argentina. The flotsam and jetsam of history - optical toys from Madrid - sit with Melville and Marx. The book ranges over theoretical fields: trauma and sexuality studies, theories of visuality, the philosophy of sacrifice and intimacy, the thought of Wittgenstein.
Instead of modernity is an adventure in the practice of comparative writing: resonances join suggestively over place and time, the textures of words, phrases and images combine to form moods. This book will be of interest to anyone concerned with the question of modernity and with the fate of cultural theory and comparison.
Andrew Ginger is the Dean of Faculties at the New College of Humanities at Northeastern
ISBN: 9781526147844
ISBN-10: 9781526147844
Publisher: Manchester University Press
Publication Date: 10/13/2020 - 12:00am
On Sale: 11/27/2020 - 12:00am
Pages: 320
Language: English
Categories
European - Spanish & Portuguese