Guess How Much I Love You Padded Board Book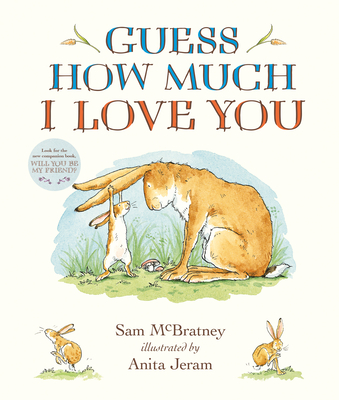 Guess How Much I Love You Padded Board Book
Likely On Our Shelves
Celebrate twenty-five years of love right up to the moon and back! A new padded board-book edition is tailor-made for the littlest of loved ones.

The treasured family classic is more endearing than ever in a padded board-book edition. Very young children will love holding this touchable, clutch-able book, created in a soft and sturdy format just for them — ready to hop from stroller to story time, from bedtime to anytime.
Sam McBratney (1943−2020) is the author of the internationally best-selling classic Guess How Much I Love You and its sequel, Will You Be My Friend?, as well as All My Favorites, all illustrated by Anita Jeram. He also wrote Just You and Me and There, There, both illustrated by Ivan Bates, and Mindi and the Goose No One Else Could See, illustrated by Linda Ólafsdóttir, among many other books for children.

Anita Jeram is the illustrator of Guess How Much I Love You, the Guess How Much I Love You Storybooks, and You're All My Favorites, all by Sam McBratney. She has also illustrated several books by Amy Hest, including Little Chick and a series about Sam and Mrs. Bear. Anita Jeram lives in Northern Ireland.
by Abby
Fri, 05/29/2020 - 12:57pm
...So no, I can't remember much of my board book days—but I asked my mom, and she reminded me what my favorite read-alouds were. My number one was Guess How Much I Love You by Sam McBratney. It's about Little Nutbrown Hare and Big Nutbrown Hare and how much they love each other—as high as they can reach, as high as they can jump, and right up to the moon and back. Knowing that it was a childhood favorite explains why I get this warm fuzzy feeling every time I look at it.
ISBN: 9781536210620
ISBN-10: 9781536210620
Publisher: Candlewick
Publication Date: 07/02/2019 - 12:00am
On Sale: 07/02/2019 - 12:00am
Pages: 30
Language: English
Categories
Juvenile Fiction / Family / Parents