Masked Hero: How Wu Lien-teh Invented the Mask That Ended an Epidemic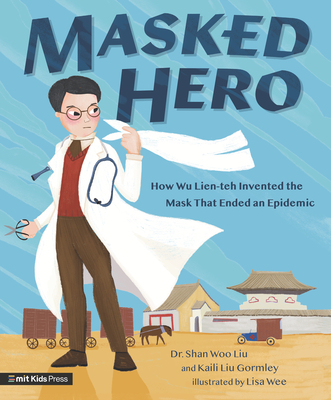 Masked Hero: How Wu Lien-teh Invented the Mask That Ended an Epidemic
Pre-Order (Not Yet Published)
Who created the N95 mask? Meet Dr. Wu Lien-teh, defeater of the Manchurian plague—in a story authored by his great-granddaughter, an emergency physician who relied on his life-saving invention during a pandemic a century later.

More than a hundred years before Covid, a deadly pneumonic plague threatened to sweep through Northeast China. Medical experts were summoned to help contain it—among them Wu Lien-teh, who had overcome hurdles to be a doctor since his boyhood in Malaysia. Unlike others, Dr. Wu deduced the disease was spread through airborne bacteria and advocated for quarantines and other measures familiar to readers today, including the use of a face covering he designed from layers of cloth and gauze: the first version of the N95 mask.

Wu Lien-teh faced ridicule and discrimination, but his trailblazing methods prevailed: the 1910 Manchurian plague was vanquished in four months, and his invention continues to keep us safe now. Masked Hero, written by Dr. Wu Lien-teh's great-granddaughter Shan Woo Liu and charmingly illustrated by Lisa Wee, celebrates the little-known history of the N95 mask and the hero who first devised it. Back matter, including an author's note and a time line, sheds further light on the ever-relevant past, encouraging budding scientists to think bravely—and remember the small acts we all can perform to keep our communities safe.
Shan Woo Liu is the great-granddaughter of Wu Lien-teh. She is an emergency medicine physician at Massachusetts General Hospital in Boston and an associate professor at Harvard Medical School. Masked Hero, her publishing debut, was inspired by her daughter Kaili's first-grade project about Dr. Wu, written in early 2020. Both mother and daughter are proud to share the story of Dr. Wu and help children understand that heroes come in all shapes, sizes, genders, and races. Shan Woo Liu lives with her family in Massachusetts.

Lisa Wee was born and raised in Penang, Malaysia, the hometown of Dr. Wu Lien-teh. After first pursuing a career in nursing, she moved to Kenya to teach art. The opportunity to teach children from diverse backgrounds opened her eyes to the need for diversity and inclusivity in children's books. The recipient of the Japan Illustrators' Association 2020 Bronze Award, among other accolades, Lisa Wee lives in Singapore.