The Long Hello: Memory, My Mother, and Me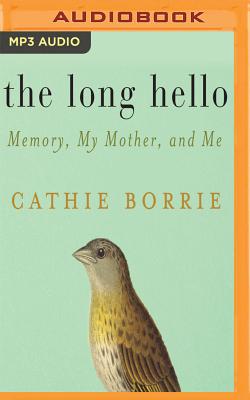 The Long Hello: Memory, My Mother, and Me
A powerful, ground-shifting account of caring for a parent with Alzheimer's, about which Maya Angelou exclaimed, "Joy "
Since Cathie Borrie delivered her keynote performance at the World Alzheimer's Day event sponsored by the Community and Access Programs of the Museum of Modern Art, her self-published manuscript has won rapturous praise from noted writers and Alzheimer's experts alike, from Maya Angelou, Lisa Genova, and Molly Peacock to Dr. Bill Thomas; Jed A. Levine of the Alzheimer's Association, NYC; and Meryl Comer of the Geoffrey Beene Foundation Alzheimer's Initiative. Now it is available to the general public for the first time in a trade edition.
The Long Hello distills the seven years the author spent caring for her mother into a pause-resisting memoir that offers insight into the "altering world of the dementia mind." During that time Borrie recorded brief conversations she had with her mother that revealed the transformations within - and sometimes yielded an almost Zen-like poetry. She includes selections from them in chapters about her experience that are as evocative as diary entries. Her mother was the emotional pillar and sometime breadwinner in a home touched by a birth father's alcoholism, a brother's early death, divorce, and a stepfather's remoteness. In Borrie's spare prose, her mother's story becomes a family's story as well a deeply loving portrait that embraces life.
ISBN: 9781536655728
ISBN-10: 9781536655728
Publisher: Audible Studios on Brilliance
Publication Date: 01/10/2017 - 12:00am
On Sale: 01/10/2017 - 12:00am
Language: English
Categories