Build What Matters: Delivering Key Outcomes with Vision-Led Product Management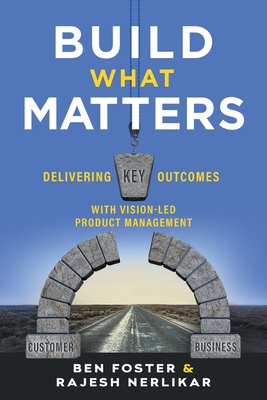 Build What Matters: Delivering Key Outcomes with Vision-Led Product Management
Out of Stock In Store
Rapid iteration, A/B testing, and growth hacking-these buzzwords have everyone's attention in product management today. But while they dominate the current discussion, something even more significant has been lost in their limelight: long-term value creation for the customer.
Product advisors Rajesh Nerlikar and Ben Foster believe that consistently delivering meaningful outcomes requires a deep understanding of your customer's definition of success. Combine a bold customer-centric vision with a practical execution strategy, and you have a recipe that reveals product development priorities and the pathway to innovation.
In Build What Matters, Rajesh and Ben introduce you to their methodology for becoming a product-driven company. Through their tested strategies and stories of success, you'll learn how Vision-Led Product Management helps you achieve company objectives by meeting both current and future customer needs.
ISBN: 9781544516172
ISBN-10: 9781544516172
Publisher: Lioncrest Publishing
Publication Date: 09/15/2020 - 12:00am
On Sale: 09/15/2020 - 12:00am
Pages: 296
Language: English
Categories