Like a Diamond in the Sky: Jane Taylor's Beloved Poem of Wonder and the Stars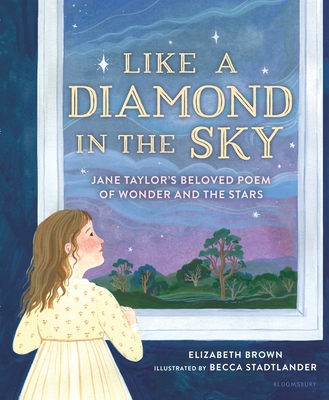 Like a Diamond in the Sky: Jane Taylor's Beloved Poem of Wonder and the Stars
Out of Stock In Store
The story behind the classic and universally recognized rhyme! This luminous picture book biography shines a light on the little-known poet and author of the beloved lullaby.

Twinkle, twinkle, little star, how I wonder what you are.
Did you ever wonder who wrote that famous verse?

In the days when most girls were brought up to run a home, Jane Taylor had a different kind of education in the English countryside, where she was inspired by nature and the stars, and dreamed of becoming a writer. But in the late 1700s, it was not considered proper for women to be writers. Jane and other female poets were shunned, unable to use their own names when published.But Jane did write, and she never forgot her love for the beauty of nature and the glow of stars, or her desire to write for children. Her published poetry became universally known for generations to come: Twinkle, twinkle little star.

This lyrical and luminous biography shines a light on the unsung poet who wrote the words of our most enduring lullaby, and features stunning artwork reflecting the world, the stars, and the story behind the poem that we all know so well.
Elizabeth Brown holds an MFA in creative writing from Goddard College, and she teaches writing and music. She is the author of Dancing Through Fields of Color and a forthcoming picture book biography of Aristides de Sousa Mendes. She lives with her family outside of Chicago.

elizabethbrownbooks.com
@ebrownbooks

Becca Stadtlander is an illustrator and a fine artist, inspired by the beauty of everyday objects, the comforts of home, and the lush colors and landscapes of far-off places. Her work is featured in many children's books, editorial publications, stationery, home decor products, and book covers. She lives and works in her hometown of Covington, Kentucky.

beccastadtlander.com
@beccastadtlander