Planning Perfect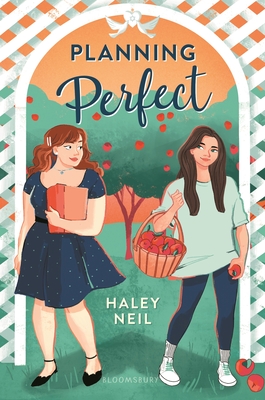 Planning Perfect
Pre-Order (Not Yet Published)
Personalized books & postcards!
We are thrilled to offer SIGNED AND PERSONALIZED copies of Planning Perfect by Haley Neil! Through 2/13/23, place an order for Planning Perfect on this page to have your copy signed & personalized by the author--and to get an exclusive Planning Perfect postcard!
To have your book signed,
you must put "SIGNED TO _____"

(your personalization request) in the comment field at checkout.

Personalizations are names only - no messages, quotes, or drawings. Offer ends at midnight Eastern Time on 2/13/23. Online orders only - in-store or phone orders do not qualify. Books will be signed AFTER 2/13/23. We will let you know as soon as your order is ready for you!
In this charming, heartfelt YA romcom about being on the asexual spectrum, a girl tries to craft the perfect wedding for her mother but discovers that sometimes the best parts of life can't be planned.

Felicity Becker loves watching an event come together. Whether it's prom, graduation, or just the annual Arbor Day school dance, there's something magical about crafting an experience that people will remember. So when her mom gets engaged, Felicity sees the wedding as the perfect opportunity to show off her skills.

After Felicity's long-distance friend Nancy offers up her family's apple orchard as a venue, wedding planning gets even better. But the more time Felicity and Nancy spend together dress shopping and hunting for just-right mismatched china, the more it starts to seem like there might be something besides friendship between them. Felicity isn't sure how she feels. As someone on the asexual spectrum, what would dating even look like for her? And would Nancy be open to dating when Felicity doesn't even know what she wants from a relationship?

Suddenly the summer is a lot more complicated. Especially when Felicity finds out that one of the wedding guests is an event planner with a prestigious internship available. Can Felicity wrangle her irresponsible mom, juggle her judgmental grandmother, figure out her feelings for Nancy, and plan the perfect wedding? Or will all of her plans come crashing down around her?
Haley Neil is the author of Once More With Chutzpah and Planning Perfect, and a recent MFA grad from The New School, where she specialized in Writing for Children and Young Adults. She previously obtained her Masters in Education while working full time as a preschool teacher. She loves school, teaching, and going to school to learn about teaching (as well as walking her rescue pup through her Massachusetts town and working at her local library).
Haleyneil.com
Twitter: @haleyeneil
Instagram: @haleyeneil