Thresholes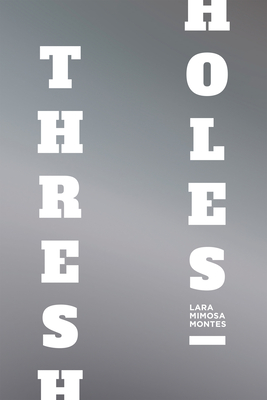 Thresholes
Out of Stock In Store (Click to Order)
Thresholes is both a doorway and an absence, a roadmap and a remembering. In this almanac of place and memory, Lara Mimosa Montes writes of her family's past, returning to the Bronx of the 70s and 80s and the artistry that flourished there. What is the threshold between now and then, and how can the poet be the bridge between the two?
Lara Mimosa Montes is a writer based in Minneapolis and New York. Her poems and essays have appeared in Academy of American Poets' Poem-A-Day, BOMB, Boston Review, Hyperallergic, Jacket2, and elsewhere. She is a 2018 McKnight Writing Fellow and CantoMundo Fellow. She holds a PhD in English from The Graduate Center, City University of New York. Currently, she works as a senior editor of Triple Canopy. She was born in the Bronx.
What are the boundaries of memory? How do those boundaries get formed and remade, throughout our lives, throughout history? In Lara Mimosa Montes' incredible new book, she explores these questions through the lenses of trauma, identity, and the Bronx of the 70's and 80's, asking for "body I can in language throw". The book -- which is a poem, but reads at times like the lyric essays of Maggie Nelson or Hanif Abdurraqib -- braids more conventional paragraphs that duck in and out of criticism with lines that feel like songs of the oldest kind. As memory blurs, as gentrification erases communities and histories, genre for Montes is a mutable thing: something worth troubling, but always present, always able to be refused.
ISBN: 9781566895798
ISBN-10: 9781566895798
Publisher: Coffee House Press
Publication Date: 05/12/2020 - 12:00am
On Sale: 05/12/2020 - 12:00am
Pages: 112
Language: English
Categories