The Socratic Method: A Practitioner's Handbook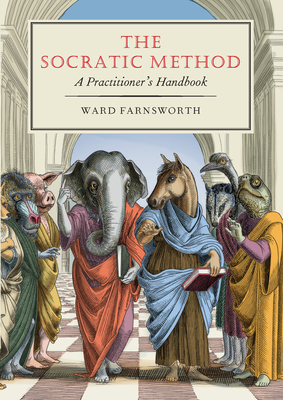 The Socratic Method: A Practitioner's Handbook
Likely On Our Shelves
"Remarkable."--Wall Street Journal
A thinking person's guide to a better life. Ward Farnsworth explains what the Socratic method is, how it works, and why it matters more than ever in our time. Easy to grasp yet challenging to master, the method will change the way you think about life's big questions. "A wonderful book."--Rebecca Goldstein, author of
Plato at the Googleplex
. About 2,500 years ago, Plato wrote a set of dialogues that depict Socrates in conversation. The way Socrates asks questions, and the reasons why, amount to a whole way of thinking. This is the Socratic method--one of humanity's great achievements. More than a technique, the method is an ethic of patience, inquiry, humility, and doubt. It is an aid to better thinking, and a remedy for bad habits of mind, whether in law, politics, the classroom, or tackling life's big questions at the kitchen table. Drawing on hundreds of quotations, this book explains what the Socratic method is and how to use it. Chapters include
Socratic Ethics
,
Ignorance
,
Testing Principles
, and
Socrates and the Stoics
. Socratic philosophy is still startling after all these years because it is an approach to asking hard questions and chasing after them. It is a route to wisdom and a way of thinking about wisdom. With Farnsworth as your guide, the ideas of Socrates are easier to understand than ever and accessible to anyone. As Farnsworth achieved with
The Practicing Stoic
and the
Farnsworth's Classical English
series, ideas of old are made new and vital again. This book is for those coming to philosophy the way Socrates did--as the everyday activity of making sense out of life and how to live it--and for anyone who wants to know what he said about doing that better.
ISBN: 9781567926859
ISBN-10: 9781567926859
Publisher: David R. Godine Publisher
Publication Date: 10/05/2021 - 12:00am
On Sale: 10/05/2021 - 12:00am
Pages: 264
Language: English
Categories
History & Surveys - Ancient & Classical