Chicken Wants a Nap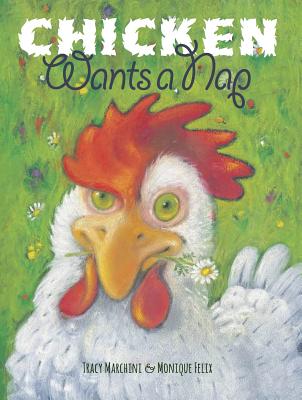 The sun is up, and a happy barnyard chicken is looking forward to a comfortable day—preferably one that includes a relaxing nap. However, every time she tries to find a good spot, something goes wrong. The sun disappears and is replaced by rain. She is driven out of the warm barn by obnoxious noises and smells. The dog is too curious for her to stay on the porch. Finally, the rain stops, and the worms come out. This is good news for the chicken—but bad news for the worms!
Freelance editor and children's author Tracy Marchini works as an agent for BookEnds Literary Agency as she continues to pursue her own dreams of publishing fiction. Chicken Wants a Nap is her debut children's picture book. Tracy holds an MFA in Writing for Children from Simmons College and has a penchant for anything having to do with ducks.

Swiss artist Monique Felix has illustrated more than 40 celebrated children's books, including Creative Editions' popular Mouse Book series, Tuba Lessons, The Velveteen Rabbit, The Rumor, Where Do I End and You Begin?, and The Good Ship Crocodile. Among her many honors is the Octogone Prize from the International Center of Children's Literature in France.