Big Book of Orgasms: 69 Sexy Stories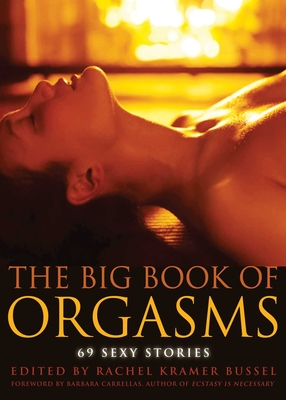 Big Book of Orgasms: 69 Sexy Stories
What happens when you bring together 69 authors sharing their hottest orgasm stories? If you have top notch erotica editor Rachel Kramer Bussel, you get The Big Book of Orgasms! This climactic collection captures top erotica writers serving up steamy scenarios all focused on The Big O. Whether getting off from exhibitionism, voyeurism, or a very special pair of blue jeans, the characters in The Big Book of Orgasms explore all sorts of ways they can come. Go "Under the Table" with Elizabeth Coldwell and cheer for "The Pink Team" by Kelly Rand. Discover the thrill of hot wax and even hotter sex; these short stories bring the heat on every page! With a foreword by Ecstasy is Necessary author Barbara Carrellas, these are climaxes you'll want to relive again and again.

Dr. Ruth once said about Rachel Kramer Bussel, "she is only satisfied if you come and come again." With this rousing read, The Big Book of Orgasms counts all the wonderful ways women get off. Inspirational as well as aspirational, this book celebrates women's sexuality by reaching new heights of excellence. Each of the 69 stories about "the big O" is a peak experience in and of itself.
Rachel Kramer Bussel (rachelkramerbussel.com) is a writer, editor, event organizer, and erotica writing instructor. She's edited over 70 anthologies, including The Big Book of Orgasms, Come Again: Sex Toy Erotica, Dirty Dates, On Fire, Spanked, Please, Sir, and Please, Ma'am, and is the Best Women's Erotica of the Year series editor. Her nonfiction has been published in The New York Times, The Washington Post, Marie Claire, O, The Oprah Magazine, Elle.com, Salon, Slate, Time.com, The Village Voice and numerous other publications. Follow her @raquelita on Twitter and learn more about her writing workshops and consulting at EroticaWriting101.com.
ISBN: 9781573449632
ISBN-10: 9781573449632
Publisher: Cleis Press
Publication Date: 10/15/2013 - 12:00am
On Sale: 10/15/2013 - 12:00am
Pages: 378
Language: English
Categories