Trick or Treat, Old Armadillo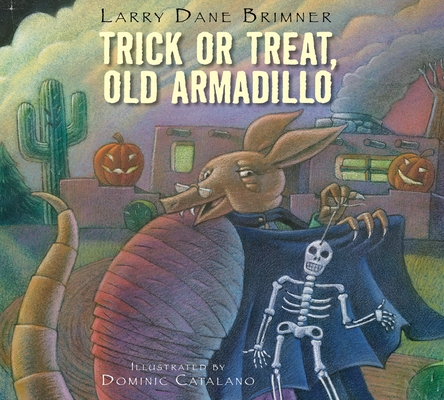 Trick or Treat, Old Armadillo
Halloween is full of surprises. Old Armadillo hears the distant sound of laugher and voices as children scamper from house to house. He sets jack-o'-lanterns on the edges of the flagstones. Inside his casita, he settles down before the fire with a mug of hot cocoa and his favorite book of ghost stories, waiting for goblins, pirates, and princesses to come knocking. He is ready for Halloween. Old Armadillo waits and waits and wonders if he ever will be visited by trick-or-treaters. Meanwhile, outside, Roadrunner, Bear, Peccary, and other friends are planning a Halloween surprise for Old Armadillo. But when friends knock on his door, they find another surprise in store. Old Armadillo and his friends from Merry Christmas, Old Armadillo have returned for another holiday. Includes a glossary of Spanish words.
Larry Dane Brimner is the award-winning author of more than 150 titles for young readers. He lives in Tucson, Arizona.

Dominic Catalano has illustrated many books for children, including Mr. Basset Plays, which he also wrote. He lives in Perrysburg, Ohio.
ISBN: 9781590787588
ISBN-10: 9781590787588
Publisher: Boyds Mills Press
Publication Date: 09/01/2010 - 12:00am
On Sale: 09/01/2010 - 12:00am
Pages: 32
Categories