PPI PE Environmental Review – A Complete Review Guide for the PE Environmental Exam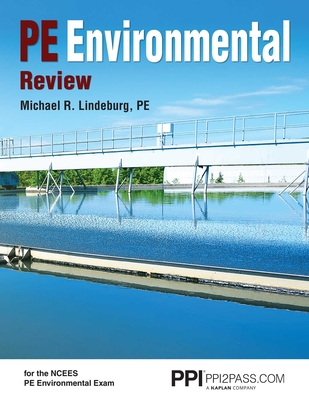 PPI PE Environmental Review – A Complete Review Guide for the PE Environmental Exam
You need this book for your CBT preparation!

The  PE Environmental CBT exam is NOT open book. You will only be allowed to use the NCEES supplied electronic reference on the exam. Ensure exam day success with the new PE Environmental Review from Michael R. Lindeburg, PE.

PE Environmental Review offers the complete review for the new NCEES Environmental PE CBT exam. This book is the most up-to-date, comprehensive reference manual available, and is designed to the exact order of the exam.

Topics Covered

Water: Principles, Wastewater, Stormwater, Potable Water, Water Resources
Air: Principles, Pollution Control
Solid and Hazardous Waste: Principles, Municipal and Industrial Solid Waste, Hazardous, Medical, and Radioactive Waste
Site Assessment and Remediation
Environmental Health and Safety
Associated Engineering Principles
About the Exam
The NCEES PE Environmental CBT Exam is a 9-hour computer-based exam. It is closed book with an electronic reference. Examinees have 9 hours to complete the 80 question exam. The 9-hour time includes a tutorial and optional break. This exam uses both the International System of units (SI) and the US Customary System (USCS).
Key Features:
Easy to find content organized in same order as the exam
Use of NCEES Handbook equations, tables, and figures
Teaching of how to solve exam problems with specific NCEES Handbook equations
Industry-standard terminology and nomenclature
Equal support of U.S. customary and SI units
Binding: Paperback
Publisher: PPI, A Kaplan Company
After you Pass
Your PE Environmental Review will serve as an invaluable reference throughout your environmental engineering career.
Michael R. Lindeburg, PE, is one of the best-known authors of engineering textbooks and references. His books and courses have influenced millions of engineers around the world. Since 1975, he has authored over 40 engineering reference and exam preparation books. He has spent thousands of hours teaching engineering to students and practicing engineers. He holds bachelor of science and master of science degrees in industrial engineering from Stanford University.