So Rich, So Poor: Why It's So Hard to End Poverty in America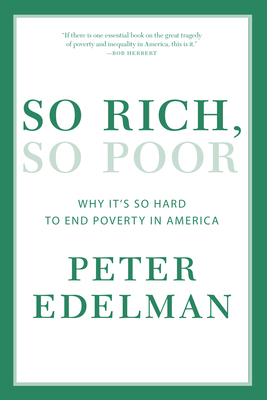 So Rich, So Poor: Why It's So Hard to End Poverty in America
Income disparities in our wealthy nation are now wider than at any point since the Great Depression. The structure of today's economy has stultified wage growth for half of America's workers--with even worse results at the bottom and for people of color--while bestowing billions on those at the top.
In this "accessible and inspiring analysis" (Angela Glover Blackwell), lifelong anti--poverty advocate Peter Edelman assesses how the United States can have such an outsized number of unemployed and working poor despite important policy gains. He delves into what is happening to the people behind the statistics and takes a particular look at young people of color for whom the possibility of productive lives is too often lost on the way to adulthood. In a timely new introduction, Edelman discusses the significance of Obama's reelection--including the rediscovery of the word "poverty"--as well as the continuing attack on the poor from the right. "Engaging and informative" (William Julius Wilson), "powerful and eloquent" (Wade Henderson), "a national treasure composed by a wise man" (George McGovern), and "a great source for summaries of our country's antipoverty program" (
Publishers Weekly
),
So Rich, So Poor
is crucial reading for anyone who wants to understand the most critical American dilemma of the twenty-first century.
Peter Edelman is a professor at Georgetown University Law Center. A top adviser to Senator Robert F. Kennedy from 1964 to 1968, he went on to fill various roles in President Bill Clinton's administration, from which he famously resigned in protest after Clinton signed the 1996 welfare reform legislation. He lives in Washington, D.C.
ISBN: 9781595589361
ISBN-10: 9781595589361
Publisher: New Press
Publication Date: 09/03/2013 - 12:00am
On Sale: 09/03/2013 - 12:00am
Pages: 208
Language: English
Categories
Public Policy - Social Services & Welfare