Skill Sharpeners: Spell & Write, Grade 1 Workbook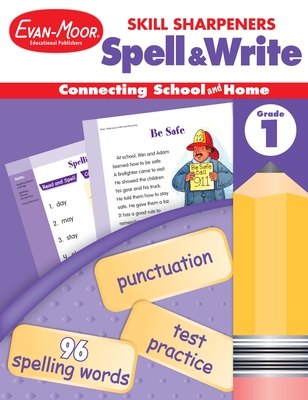 Skill Sharpeners: Spell & Write, Grade 1 Workbook
Out of Stock In Store
Help first graders learn important spelling and writing skills with Skill Sharpeners Spell & Write
Each of the 12 colorful units introduces eight new spelling words and includes engaging writing, matching, and fill-in-the-blank activities to help children understand the meaning and spelling of each word. Spelling word lists identify specific spelling patterns and rules to help children learn important word families.
Each unit includes:
Colorful stories that introduce spelling words and patterns
Vocabulary and comprehension activity pages help children recognize important spelling patterns and word meanings
Test your skills activity pages check children's understanding and provide additional practice
Spelling word lists include practice of: short and long vowels, digraphs, double consonants, and more.
Activities also include practice with:
Grammar and punctuation rules
Vocabulary exercises
Creative writing
Every Skill Sharpeners workbook now includes a free downloadable Teaching Guide The Skill Sharpeners: Spell & Write Teaching Guides include:
How to Use directions for teaching language
Sample pacing guide to complete lessons and activities
Teaching suggestions with writing graphic organizers and language journals
Extension activities that include fun language games and writing activities
Visual aids that include printable word lists and study cards for difficult spelling patterns
About Evan-Moor
A leader in PreK-8 educational publishing, Evan-Moor has been a trusted partner of teachers and parents for over 40 years. Our mission is helping children learn, and we do this by creating resources that motivate children to learn important skills and concepts across the curriculum while also inspiring a love of learning.
ISBN: 9781596730458
ISBN-10: 9781596730458
Publisher: Evan-Moor Educational Publishers
Publication Date: 06/01/2005 - 12:00am
On Sale: 06/01/2005 - 12:00am
Pages: 144
Language: English
Categories
Teaching - Subjects - Language Arts