Home Sausage Making, 4th Edition: From Fresh and Cooked to Smoked, Dried, and Cured: 100 Specialty Recipes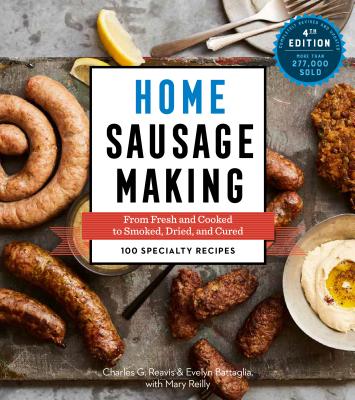 Home Sausage Making, 4th Edition: From Fresh and Cooked to Smoked, Dried, and Cured: 100 Specialty Recipes
Out of Stock In Store (Available to Order)
Home Sausage Making is the most comprehensive go-to reference on the subject — and the re-designed fourth edition is better than ever, with 60 percent new and updated recipes, the most current guidelines for popular charcuterie techniques such as dry curing and smoking, and more. Step-by-step photos make the process accessible for cooks of all levels, and 100 recipes range from breakfast sausage to global favorites like mortadella, liverwurst, chorizo, salami, kielbasa, and bratwurst. Recipes for using wild game, chicken, seafood, and vegetables ensure there's something for every taste. An additional 100 recipes highlight creative ways to cook with sausage.
The late Charles G. Reavis authored the original edition of Home Sausage Making, published in 1981. He was a chef and writer, and an English teacher in Endwell, New York.

Evelyn Battaglia has completely updated Home Sausage Making for the 4th Edition, along with Mary Reilly. Battaglia was Executive Editor of Cookbooks and Special Interest Publications at Martha Stewart Omnimedia and Deputy Editor of Everyday Food for many years. She has a Professional Culinary Degree from the International Culinary Institute, and currently is a freelance writer for national magazines and books. She lives in Berkshire County, Massachusetts. 

Mary Reilly, along with Evelyn Battaglia, has updated Home Sausage Making for the 4th Edition. For many years, Reilly ran her own catering business, The Savory Kitchen, and was chef/owner of Enzo Restaurant and Bar in Newburyport, Massachusetts. Reilly is now the executive chef at Westfield State University and publisher of Edible Pioneer Valley in western Massachusetts.