Packing for India: A Life of Action in Global Finance and Diplomacy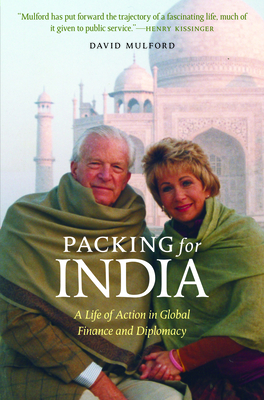 Packing for India: A Life of Action in Global Finance and Diplomacy
Out of Stock In Store
David Mulford has witnessed and participated in dramatic changes in the world economic system—from newly independent countries in Africa and the emerging Eurobond market to the boardrooms of New York, from the Saudi Arabian Monetary Agency to the White House and Treasury Department, and from the halls of Oxford to the developing expanse of India. In Packing for India, Mulford explores the underpinnings, vulnerabilities, and great promise of a global economy that through the spread of capital, products, people, and technology has transformed economic realities and aspirations around the world.

Packing for India is also a deeply personal memoir of experience and transformation, a firsthand account of key events, and a reflection on world leaders and on the United States' role in international finance. At each stage of his career, Mulford faced radically different challenges, which prepared him to serve successfully as U.S. ambassador to India. How, he is asked by many people, did a person from humble beginnings do so many fascinating things? Mulford answers this question by examining where he has been and what he has learned, and he leaves the reader with his vision for a path toward sustained global growth and stability.

DAVID MULFORD is vice chairman international of Credit Suisse and the former U.S. ambassador to India. He also served as undersecretary of the U.S. Treasury for International Affairs and as senior investment advisor to the Saudi Arabian Monetary Agency. Ambassador Mulford holds a Doctor of Philosophy degree from Oxford, was in the first class of the White House Fellows program, and has been decorated by many countries for his outstanding international service.