Forbidden Memory: Tibet during the Cultural Revolution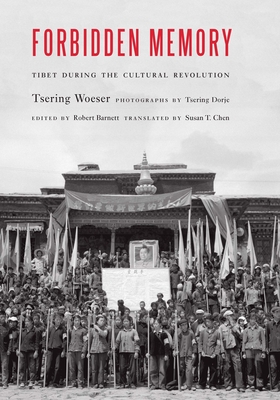 Forbidden Memory: Tibet during the Cultural Revolution
Out of Stock In Store
Access the glossary of Tibetan terms.
Access the glossary of Chinese and English terms.
Access the Index.   When Red Guards arrived in Tibet in 1966, intent on creating a classless society, they unleashed a decade of revolutionary violence, political rallies, and factional warfare marked by the ransacking of temples, the destruction of religious artifacts, the burning of books, and the public humiliation of Tibet's remaining lamas and scholars. Within Tibet, discussion of those events has long been banned, and no visual records of this history were known to have survived.

In Forbidden Memory the leading Tibetan writer Tsering Woeser presents three hundred previously unseen photographs taken by her father, then an officer in the People's Liberation Army, that show for the first time the frenzy and violence of the Cultural Revolution in Tibet. Found only after his death, Woeser's annotations and reflections on the photographs, edited and introduced by the Tibet historian Robert Barnett, are based on scores of interviews she conducted privately in Tibet with survivors. Her book explores the motives and thinking of those who participated in the extraordinary rituals of public degradation and destruction that took place, carried out by Tibetans as much as Chinese on the former leaders of their culture.

Heartbreaking and revelatory, Forbidden Memory offers a personal, literary discussion of the nature of memory, violence, and responsibility, while giving insight into the condition of a people whose violently truncated history they are still unable to discuss today.
Tsering Woeser is a poet, essayist, and blogger and one of the most prominent voices of the Tibetan independence movement. Two of her books have been published in English, Tibet on Fire: Self-Immolations against Chinese Rule and Voices from Tibet: Selected Essays and Reportage. Woeser has received the Prince Claus Award and the U.S. Department of State's International Women of Courage Award. She lives under close surveillance in Beijing.

Robert Barnett is an associate researcher at the Lau Institute of Chinese Studies at King's College, London, and a visiting scholar at Pembroke College, Cambridge. 

Susan T. Chen is a longtime collaborator with Tsering Woeser and translator of her work. She received her PhD in contemporary Tibetan culture from Emory University and is visiting assistant professor of history at Wingate University in North Carolina.
ISBN: 9781612349695
ISBN-10: 9781612349695
Publisher: Potomac Books
Publication Date: 04/01/2020 - 12:00am
On Sale: 04/01/2020 - 12:00am
Pages: 448
Language: English
Categories