The I-35W Bridge Collapse: A Survivor's Account of America's Crumbling Infrastructure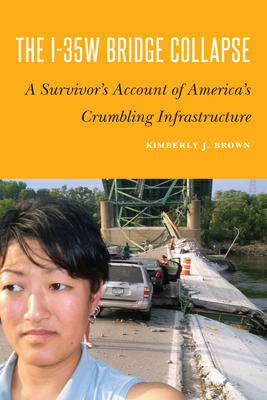 The I-35W Bridge Collapse: A Survivor's Account of America's Crumbling Infrastructure
Out of Stock In Store (Available to Order)
2019 Minnesota Book Award Finalist in Memoir & Creative Nonfiction

"A bridge shouldn't just fall down," Senator Amy Klobuchar said after the August 1, 2007, collapse of the Minneapolis I-35W eight-lane steel truss bridge, which killed 13 motorists, injured 145, and left a collective wound on the city's psyche and infrastructure.

On her way to a soccer game with a fellow teammate, Kimberly J. Brown experienced the collapse firsthand, falling 114 feet in her teammate's car to the Mississippi River. Although terrified, injured, and in shock, she survived. In this sobering memoir and exposé, Brown recounts her harrowing experience.

In the aftermath of the disaster, Brown became both an advocate for survivors and an unofficial whistle-blower about decaying infrastructure. She details her investigation and correspondence with Thornton Tomasetti engineers, including the false official account of the collapse and the eventual revelation of its real causes. In addition, she chronicles the ongoing decay of America's bridges and the continuing challenges faced by leaders to address infrastructure problems across the country.

After nearly a decade of research into the collapse and her active and ongoing recovery from psychic and physical injuries, Brown shares her experience and answers the questions we should all be asking: Why did this bridge collapse? And what could have been done to prevent this tragedy?
Kimberly J. Brown is an IT technical writer. On August 1, 2007, she was one of the 180 people on the I-35W bridge when it collapsed. She is now an outspoken advocate for victims and survivors of the collapsed bridge. For more information about The I-35W Bridge Collapse, visit kjbrown.com.
ISBN: 9781612349770
ISBN-10: 9781612349770
Publisher: Potomac Books
Publication Date: 07/01/2018 - 12:00am
On Sale: 07/01/2018 - 12:00am
Pages: 264
Language: English
Categories
Biography & Autobiography / Personal Memoirs