Galaxy's Edge Magazine: Issue 42 January 2020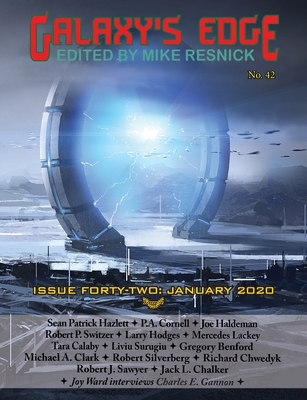 Galaxy's Edge Magazine: Issue 42 January 2020
Out of Stock In Store (Click to Order)
This item may not be available to order. Please call 617-566-6660 for more information.
A Magazine of Science Fiction and Fantasy
ISSUE 42: January 2019
Mike Resnick, Editor
Taylor Morris, Copyeditor
Shahid Mahmud, Publisher
Stories by: Sean Patrick Hazlett, P.A. Cornell, Joe Haldeman, Robert P. Switzer, Larry Hodges, Mercedes Lackey, Tara Calaby, Liviu Surugiu, Gregory Benford, Michael A. Clark, Robert Silverberg
Serialization: Midnight at the Well of Souls by Jack L. Chalker
Columns by: Robert J. Sawyer, Gregory Benford
Recommended Books: Richard Chwedyk
Interview: Joy Ward interviews Charles E. Gannon
Galaxy's Edge is a bi-monthly magazine published by Phoenix Pick, the science fiction and fantasy imprint of Arc Manor, an award winning independent press based in Maryland. Each issue of the magazine has a mix of new and old stories, a serialization of a novel, columns by Robert J. Sawyer and Gregory Benford, book recommendations by Richard Chwydyk and an interview conducted by Joy Ward.
ISBN: 9781612424873
ISBN-10: 9781612424873
Publisher: Phoenix Pick
Publication Date: 12/25/2019 - 12:00am
On Sale: 12/25/2019 - 12:00am
Pages: 102
Language: English
Categories
Science Fiction - Collections & Anthologies