The Penguin Pool Murder (An American Mystery Classic)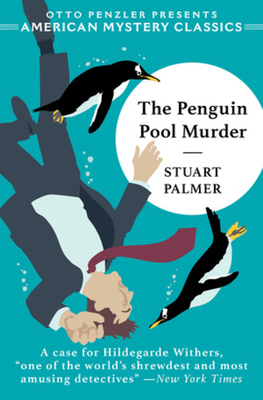 The Penguin Pool Murder (An American Mystery Classic)
Out of Stock In Store
In this classic whodunnit, crime-solving teacher Hildegarde Withers discovers a dead body while on a trip to the New York Aquarium with her third-grade class.
For the third graders at Jefferson School, a field trip is always a treat. But one day at the New York Aquarium, they get much more excitement than they bargained for. A pickpocket sprints past, stolen purse in hand, and is making his way to the exit when their teacher, the prim Hildegarde Withers, knocks him down with her umbrella.
By the time the police and the security guards finish arguing about what to do with Chicago Lew, he has escaped, and Miss Withers has found something far more interesting: a murdered stockbroker floating in the penguin tank. With the help of Detective Oscar Piper, this no-nonsense spinster embarks on her first of many adventures. The mystery is baffling, the killer dangerous, but for a woman who can control a gaggle of noisy third graders, murder isn't frightening at all.
The Penguin Pool Murder is part of the Hildegarde Withers Mysteries series, which also includes Murder on the Blackboard and Murder on Wheels.
Stuart Palmer (1905–1968) was an American author of mysteries. Born in Baraboo, Wisconsin, Palmer worked a number of odd jobs—including apple picking, journalism, and copywriting—before publishing his first novel, the crime drama Ace of Jades, in 1931. It was with his second novel, however, that he established his writing career: The Penguin Pool Murder introduced Hildegarde Withers, a schoolmarm who, on a field trip to the New York Aquarium, discovers a dead body in the pool. Withers was an immensely popular character, and went on to star in thirteen more novels, including Miss Withers Regrets (1947) and Nipped in the Bud (1951). A master of intricate plotting, Palmer found success writing for Hollywood, where several of his books, including The Penguin Pool Murder, were filmed by RKO Pictures Inc.

Otto Penzler, the creator of American Mystery Classics, is also the founder of The Mysterious Press (1975); MysteriousPress.com (2011), an electronic-book publishing company; and New York City's Mysterious Bookshop (1979). He has won a Raven, the Ellery Queen Award, two Edgars (for the Encyclopedia of Mystery and Detection, 1977, and The Lineup, 2010), and lifetime achievement awards from NoirCon and The Strand Magazine. He has edited more than 70 anthologies and written extensively about mystery fiction.